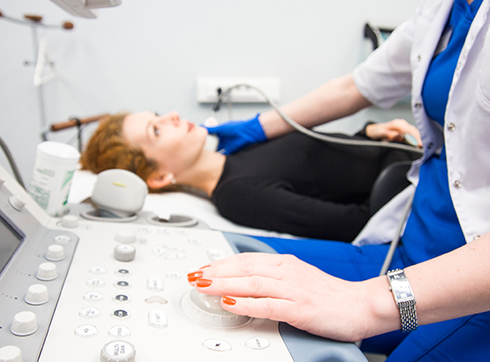 Ultrasound examination (ultrasound) is a highly informative, non-invasive, mobile, painless method of visualization of human organs and tissues, widely used in all areas of modern medicine.
What ultrasound technologies are used by K+31 doctors?
Clinic K+31 has stationary and portable ultrasound devices of an expert class of leading manufacturers of ultrasound equipment (Toshiba, General Electric, Philips, Hitachi):
A wide range of diagnostic capabilities.
Excellent visualization.
Doppler study programs.
Panoramic scanning.
Building a volumetric image in real time.
Installed in the clinic, premium ultrasound devices Canon i800, Toshiba Artida, Toshiba Aplio 500 include innovative imaging technologies in ultrasound, have a number of unique capabilities that allow you to obtain gray-scale images of unprecedented quality with extremely detailed study of tissue and organ structures.
New possibilities of computer processing of ultrasound images in three-dimensional (3D-4D) mode on devices of the latest generation make it possible to create a spatial picture of the structure of an organ, vessel, and pathological focus.
What organs and systems can be checked for ultrasound at K+31?
Almost all ultrasound research methods that exist today are carried out in K+31:
abdominal organs;
kidney and adrenal area;
thyroid, mammary and salivary glands;
lymph nodes;
lungs;
pleural cavities;
orbits of the eye and orbits;
pelvic organs in men and women;
organs of the scrotum;
soft tissues and joints;
duplex and triplex scanning of great vessels and vessels of internal organs;
doppler echocardiography and stress echocardiography, transesophageal echocardiography;
ultrasound during pregnancy in all trimesters;
doppler ultrasonography of uteroplacental and fetal blood flow;
construction of a volumetric image of the fetus;
ultrasound guidance for minimally invasive interventions.