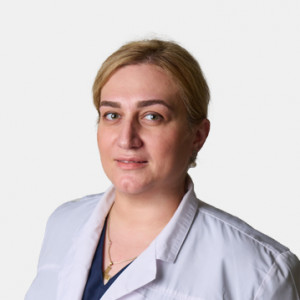 Achba Maya Otarovna
Radiologist, ultrasound diagnostician, oncologist-mammologist
Department:
Mammalogy, Diagnostics
Holds reception in branches:
K+31 on Lobachevskogo
| st. Lobachevskogo, 42/4
Treatment Profile
Digital mammography, tomosynthesis.
Multiparametric ultrasound diagnostics of breast diseases.
Interventional diagnostics (breast biopsy).
Contrast studies - ductography, contrast spectral mammography.
Instrumental diagnostics of the mammary glands, which includes:
Ultrasound of the mammary glands and regional lymph nodes.
Mammography (contrast spectral mammography, tomosynthesis).
Interventional diagnostics in mammology (punctures under ultrasound, core biopsy, trephine biopsy under stereotaxic control, interstitial marking).
Biopsy.
Ductography.
SPECIALIZATION
Oncology.
Ultrasound diagnostics.
Radiology.
Ultrasound diagnostics of malignant and benign neoplasms, tumor-like processes in the mammary gland.
AT THE RECEPTION
Examination of the patient, mammography (tomosynthesis, contrast mammography), ductography, ultrasound diagnostics (PTAB).
Maya Otarovna is simply a great specialist! I visit 2 times a year for prevention and every time I get great pleasure from communication and from examination, everything is very clear, fast and qualified! Adore
26.03.2023
Nizameeva Ekaterina
Write a review