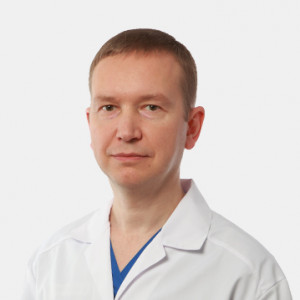 Udin Oleg Ivanovich
Deputy chief physician for surgery, surgeon
Department:
Oncology, Surgery, Drug therapy
Holds reception in branches:
K+31 on Lobachevskogo
| st. Lobachevskogo, 42/4
Treatment Profile
He is engaged in minimally invasive surgery for diseases of the gastrointestinal tract, including: peptic ulcer of the stomach and duodenum, acid-dependent diseases, pathologies of the pancreas, hernia of the esophageal opening of the diaphragm and the anterior abdominal wall, pathologies of the small and large intestines, etc.
Many thanks to Oleg Ivanovich Yudin! He performed an operation to remove an old hernia from his grandfather. The whole family was worried about how the operation and recovery would go, since grandfather's age is wonderful. But Oleg Ivanovich did everything perfectly, the grandfather, already healthy, went to the dacha. The doctor really knows his business, serious and collected, but it is felt that he is good-natured!

I would like to express my gratitude to Oleg Ivanovich Yudin and all the medical staff of the K + 31 clinic, who performed a planned laparoscopic operation for excision of an inguinal hernia on 11/9/2021. I am very attentive to my health and I want to note that before I had to visit several clinics in order to find such a surgeon to whom I am ready to entrust my treatment. Oleg Ivanovich left a very pleasant impression from the first meeting, he was very attentive, asked all the questions to establish a diagnosis, performed an ultrasound scan, talked about the operation, and promised that he would make every effort to achieve an aesthetic effect on the body after the operation. The operation itself was also comfortable, I constantly felt support from all the staff and care! After the operation, there were three small strips covered with glue, which become less noticeable every day, and postoperative rehabilitation is pain-free and with a minimum of restrictions. Oleg Ivanovich, thank you very much! Health and wellbeing!

I would like to sincerely thank Oleg Ivanovich, a talented surgeon, an excellent doctor and a wonderful person, who performed a planned operation to remove my gallbladder on May 7, 2021. Also, many thanks to the anesthesiologists, all the medical staff of the department for their high professionalism, sensitivity, care, humanity! Thank you so much for your work! Best regards, Verzhikovskaya Ekaterina

I sincerely express my gratitude to the Deputy Chief Physician for Surgery, Oleg Ivanovich Yudin for the highest professionalism, sensitive attitude to patients, attention and kindness. Thank you for such competent, skillful and talented, caring people who work exactly where they are most needed. Special thanks to the hospital staff for their friendly and attentive attitude towards patients. I wish prosperity and well-being to you, Oleg Ivanovich, to your clinic and the specialists who work there.

Yesterday we operated on the gallbladder, there were 3 small glued stripes on the body. The doctor very quickly made the right decision to urgently operate, as the stone got stuck in the duct. And this is very dangerous and painful! Today everything is over! Many thanks to the wonderful Doctor, I also thank the entire K + 31 team, you are the best!

Oleg Ivanovich arrived at night on his day off to help the team that operated on my mother. They saved her! The operation lasted six hours. They all have golden hands and hearts! Low bow!
In April last year, Oleg Ivanovich performed an operation to remove my gallbladder. I want to express my sincere gratitude for the highest level of skill of this doctor! Women will understand me - scars do not decorate us :( So, thanks to Oleg Ivanovich, the aesthetics of the body was preserved (I saw traces from laparoscopy in others: ((() An attentive, knowledgeable surgeon! I recommended him to my friends - they were also satisfied. Thank you very much, Oleg Ivanovich !!!!!

From the bottom of my heart, I thank the surgeon Oleg Ivanovich Yudin for the elaborate operation to remove the gallbladder. I sincerely wish you well-being in your personal life!
I went to the clinic K + 31 on the issue of laparoscopic inguinal hernia repair. I would like to express my gratitude and appreciation to the highly professional surgeon Oleg Ivanovich Yudin, the team of anesthesiologists and accompanying medical staff. At the initial consultation, Oleg Ivanovich attentively listened to all my complaints, made a clear and understandable assessment of my diagnosis, explained how the laparoscopic operation would be performed and made a necessary and sufficient program of preliminary examinations, and sent me for a consultation to an anesthesiologist. The operation was planned, the general anesthesia was performed at the highest level, and the postoperative support in the K + 31 department was excellently organized! I am very glad that I made my choice and applied to K + 31. Just 5 days after the operation, I was already able to start my favorite job. Many do not trust other people's reviews, especially those published on the Internet, and even on the website of the clinic itself. But believe me, K + 31 is really a very high-tech clinic with an experienced and professional staff! The level of assistance really meets all the highest standards! With respect to real professionals and with gratitude, Lev Nodelman

Write a review