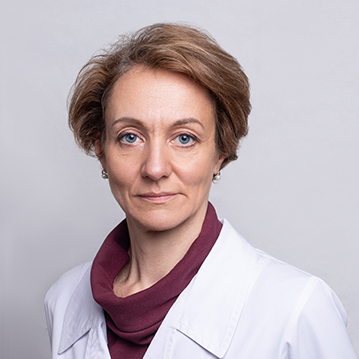 Ter-Arutyunyants Svetlana Andreevna
Radiotherapist, oncologist
Academic degree:

PhD

Reception at:

ул. Оршанская, д. 16
Make an appointment
Main information
Directions
Reviews
EDUCATION
1999 - Russian State Medical University, medical faculty.
1999 - course of primary specialization in oncology "Modern methods of diagnostics and treatment of malignant tumors" on the basis of the Moscow Medical Academy (MMA named after I.M. Sechenov), faculty of postgraduate education.
2001 - training in clinical residency at the Moscow Research Oncological Institute (MNIOI) named after P.A. Herzen, work in the department of radiology, mainly radiogynecology, skills in working with devices "Gammamed", "AGAT-VU", "ROKUS". Also work in surgical departments (gynecological oncology, abdominal surgery, urology oncology), chemotherapy department, polyclinic.
2004 - postgraduate studies in the specialty "Oncology", "Radiation Diagnostics and Radiation Therapy" on the basis of the Department of Radiation Therapy of the Moscow Research Institute named after P.A. Herzen.
REFRESHER COURSES
2001 - "Advanced training course for young oncologists", Poland, Krakow, in the framework of the "HOPE" project of the medical education program "Hoffmann la Roche" (in English).
2001 - courses of primary specialization in radiology at the Department of Radiology FPPO.
2005 - training course for working with the device "Microselectron", the company "Nucletron", Poland, Gliwice, State Scientific Oncological Center named after M. Skladovskaya-Curie.
2005 - ESTRO school in Moscow, theme of the cycle "Modern methods of brachytherapy".
2006 - school ESTRO, "Brachytherapy in gynecological malignancies", Vienna.
Repeated ESTRO courses in Moscow, Tula, St. Petersburg, with various topics ("Physic in Radiation Therapy", "Evidence based radiation therapy" "Radiobiology" "Brachytherapy" "From 2D to 3D radiation therapy" - physics in radiation therapy, evidence-based medicine in oncology and radiation therapy; radiobiology; features of 3D-conformal radiation therapy).
11.03.06 - 26.03.06, 14.08.06 - 15.09.06 - on-the-job training in the radiology department of the University Hospital Vienna (head of the department - Prof. Richard Potter). The main purpose of the visit is to teach modern methods of brachytherapy in gynecological oncology (3D planning based on MRI). Also - training in interstitial radiation therapy techniques for breast cancer. Acquaintance with the methods of brachytherapy for cancer of the prostate, esophagus, oropharyngeal zone.
2010 - visit to a radiotherapy clinic in Rotterdam, the Netherlands (on-the-job training in order to get acquainted with the modern concept of radiosurgical treatment; among other things, the training was devoted to treatment with the CyberKnife apparatus).
Further training in the framework of continuing medical education at conferences of the Russian Cancer Society, including oncogynecology, head and neck tumors, stereotactic radiation therapy.
PROFESSIONAL SKILLS
Intracavitary and interstitial radiation therapy for cancer of the cervix, endometrium, vulva on devices "AGAT-VU", "GAMMAMED".
Intraoperative electron beam therapy for tumors of the female reproductive system.
Work with linear accelerators manufactured by Elekta, including Elekta Infinity, Elekta Axesse, Siemens Oncor.
Participation in outpatient consultations as a radiotherapist.
Determination of indications for radiation treatment.
A wide range of localizations: primary and recurrent prostate cancer, cancer of the head and neck organs, including the oropharynx, laryngopharynx, larynx, oral cavity, breast, vulva, skin, brain metastases, glioblastomas, esophageal cancer, rectal cancer, cancer lung, penile cancer, etc.
Chemoradiation therapy, including the implementation of a chemotherapeutic component.
Stereotactic radiation therapy, including breath control, ABC system.
Work on a multifunctional linear accelerator "Varian Trilogy", using techniques for the formation of fields with a multi-leaf collimator, moving and static fields, simulation of the isocenter position by means of "on-board imaging" (OBI - X-ray control) and CBCT - cone beam computed tomography - control of the isocenter position by CT.
Work on the Varian True Beam linear accelerator, treatment of various nosologies, including breast cancer (treatment on inspiration, DIBH technique - deep inspiration breath hold), cancer of the cervix and uterine body, cancer of the head and neck organs, including the oropharynx, tongue, cancer esophagus, rectal cancer, pancreatic cancer, skin cancer, hematological diseases, brain tumors.
Stereotactic radiation therapy. VMAT, IMRT techniques.
Currently:
Work with a wide range of localizations: tumors of the head and neck organs, soft tissues, lesions of bones and peripheral nerves, cancer of the esophagus, rectum, anal canal, brain tumors, primary and metastatic, breast cancer, lung cancer, skin cancer, prostate cancer glands, gynecological cancer, etc.
Work on the linear accelerator "Varian True Beam", "Varian Halcyon".