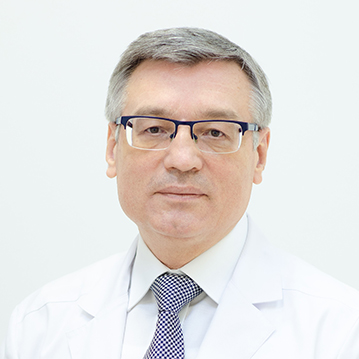 Merkulov Igor Alexandrovich
Deputy chief physician for oncology, oncologist
Work experience:

30 years

Academic degree:

Doctor of Sciences, PhD

Medical category:

Врач высшей категории

Reception at:

ул. Оршанская, д. 16, стр. 2
Make an appointment
Main information
Directions
Reviews
Education:

In 1992, he graduated with honors from the Moscow Medical Dental Institute with a degree in medical care. After graduation, he studied at the residency department at the Department of General Surgery.
After completing residency from 1994 to 2009, he worked as a doctor in the oncology department of the Moscow City Clinical Hospital No. 33. He independently performed more than 4,000 operations on the skin, mammary gland, soft tissues of the body and abdominal organs.
Scientific activity:

In 2003, she was awarded the degree of candidate of medical sciences.
In 2008, she was awarded the degree of Doctor of Medical Sciences.
Area of professional interests:

Diagnosis and treatment (chemotherapy, hormone therapy, immunotherapy, targeted therapy) of patients with cancer of the brain, mammary glands, skin, soft tissues, abdominal cavity and pelvis.
Conducting symptomatic and palliative therapy of patients with cancer.
Rehabilitation of patients after cancer treatment.
Has the highest medical category in oncology, a valid certificate. I perfectly know and apply in practice international standards for the diagnosis and treatment of cancer.
Research Interests:
Development and application of bioimpedance analysis in the diagnosis of various pathological conditions.
Development of new approaches in the treatment of cancer based on antitumor vaccines and tumor cell proteome.
Conducting clinical trials of new cancer drugs.
Professional achievements and recognition:

From 2010 to 2014, he worked at the Federal Scientific and Clinical Center for Specialized Treatment Methods and Medical Technologies of the Federal Biomedical Agency of Russia (Moscow) as the head of the oncology department and the head of the in-hospital Oncology Center. In addition, he held the position of Scientific Secretary of the Scientific Council of the Center and Chairman of the Ethics Committee.
The author of more than 100 scientific publications.