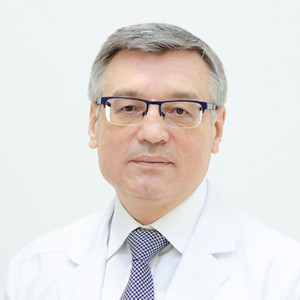 Merkulov Igor Alexandrovich
Deputy chief physician for oncology, oncologist
Department:
Oncology, Oncology at K+31 West, Drug therapy, Oncology treatment according to CHI
Degree:
Doctor of Sciences, PhD
Holds reception in branches:
K+31 West
| Orshanskaya, 16/2; Ak. Pavlova, 22
Treatment Profile
Diagnostics and treatment (chemotherapy, hormonal therapy, immunotherapy, targeted therapy) of patients with oncological diseases of the brain, breast, skin, soft tissues, abdominal cavity and small pelvis.
Carrying out symptomatic and palliative therapy of patients with oncological diseases.
Rehabilitation of patients after oncological treatment.
To hear the diagnosis of "oncology" for any person is a huge shock, but when you get a consultation with Igor Aleksandrovich, you will understand that this diagnosis is not a sentence. It is very important in such a situation to get to a competent doctor, and most importantly, to a caring, attentive person. This is exactly what Igor Aleksandrovich is. Reassured, explained, answered all questions. I left his office in a state opposite to that in which I was when I came to the reception.

Write a review