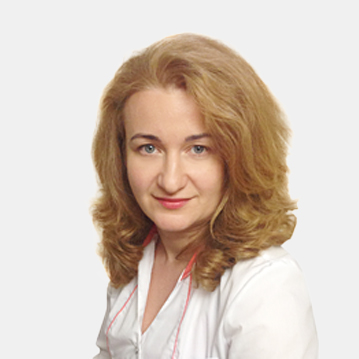 Chichkanova Tatyana Vladimirovna
Oncologist-mammologist, radiologist
Work experience:

20 years

Reception at:

1-й Колобовский пер. дом 4
Make an appointment
Main information
Directions
Reviews
He knows the method of ductography.
SPECIALIZATION
Management of oncological and surgical patients in outpatient and inpatient settings.
Individual selection of optimal treatment regimens for various forms of mastopathy.
Performing minimally invasive and diagnostic procedures (diagnostic punctures, incisional biopsies).
Surgical treatment of benign breast formations.
Diagnosis, treatment, surgical aid, management of patients with purulent-inflammatory diseases of the mammary glands.
Radiation diagnosis of breast diseases.
EDUCATION
In 1991 she graduated from the Moscow School of the Central Republican Hospital of the Ministry of Health of the RSFSR with a degree in nurse.
In 2001, she graduated from Moscow State Medical and Dental University with a degree in General Medicine.
From 2001 to 2002 She completed an internship in "Surgery" at the Department of Hospital Surgery of the Faculty of Medicine at Moscow State Medical and Dental University.
In 2002, she passed professional retraining in the specialty "X-ray" at the Moscow State Medical-Dental University.
In 2005, she underwent professional retraining in the specialty "Ultrasound Diagnostics" at the Faculty of Higher Professional Education GOU VPO RSMU.
In 2007, she underwent professional retraining in the specialty "Oncology" at the Higher Educational Institution of Higher Educational Establishment of Higher Professional Education of the Russian State Medical University.
QUALIFICATION COURSES
In 2002, she passed the "Topical Improvement in Mammology" at the Mammological Dispensary of the Health Committee, Moscow.
In 2004, the course "Comprehensive radiation diagnosis of breast diseases" was held on the basis of RMAPO.
In 2005, she attended the course "Structural resonance electromagnetic therapy" at the Institute for Advanced Studies of the Federal Administration "Medbioextrem".
In 2008, she underwent short-term advanced training in ensuring radiation safety during the operation of X-ray rooms, devices and during X-ray studies at the Academy of Medical and Technical Sciences of the Russian Federation.
Margarita
22.01.2020
If you need professional advice, help, you need to go to Tatiana Vladimirovna. For a person who faces health problems, the approach and attitude of the doctor is critical. Tatiana V. is a professional with a capital letter. I am very glad that I found "my" oncologist / mammologist. Thanks you!!!!!
Margarita
31.12.2019
To become a specialist, you need to graduate from the university, to become a good specialist, you need to continue to expand theoretical knowledge and practice, in order to become a professional, you need to competently combine knowledge, experience and be a sensitive, attentive person. Tatyana Vladimirovna is a real professional in her field. I am very glad that I came to this particular doctor. An attentive and individual approach to the issue of health - this is exactly what happens at Tatiana Vladimirovna's receptions. Thank!
Natalia
02.10.2018
I have been seeing Tatyana Vladimirovna Chichkanova for several years, and I want to write the kindest words. Thank you very much for your professionalism, sensitivity and attention. For the fact that you can calm down and help, get into the situation, and in a difficult situation find and collect all the necessary specialists and extend your working day for several hours. Thank you so much, I was at the reception yesterday - yes, everything was professional, calm, confident, excellent)))
ANASTASIA
18.04.2016
Tatyana Vladimirovna is an excellent specialist and a very calm doctor))) For those who are afraid to go to a mammologist even for a consultation, I highly recommend this specialist. Everything is calm and safe! Many thanks!
GALINA GENNADIEVNA
19.01.2016
T.V. Chichkanova high-class specialist, sensitive person. The impression of the call center and administrators is good, everything is very well organized.
Shashkina Yu. I.
19.01.2016
I was at the reception of T.V. Chichkanova and A.F. Kartashova, I did an operation in your medical center. All services were rendered at the highest level, all employees of the center are highly qualified specialists, people with golden hands and big human hearts. Thank you very much, good health to all. All medical personnel are friendly and competent in their work, good luck and success to you.