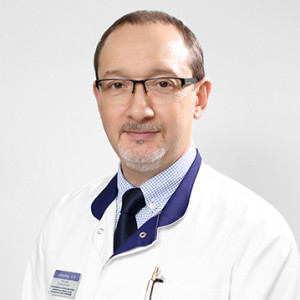 Rasner Pavel Ilyich
Consultant in urology, urologist
Department:
Oncology, Urology, Drug therapy
Высшая квалификационная категория
Degree:
Doctor of Sciences, PhD, professor
Holds reception in branches:
K+31 on Lobachevskogo
| st. Lobachevskogo, 42/4
Treatment Profile
He owns the whole range of laparoscopic, robot-assisted, endoscopic and open surgical interventions on the kidney, prostate and bladder.
He has extensive experience in performing transurethral resections.
Since 2004, he has been actively involved in laparoscopic surgery.
Since 2008, he has been performing robot-assisted operations on the DaVinci surgical system.
Regularly performs radical prostatectomy, nephrectomy, kidney resection and plastic surgery for hydronephrosis.
He has extensive experience not only in laparoscopic and endoscopic, but also in "open" surgery.
Performs more than 250 surgeries annually.