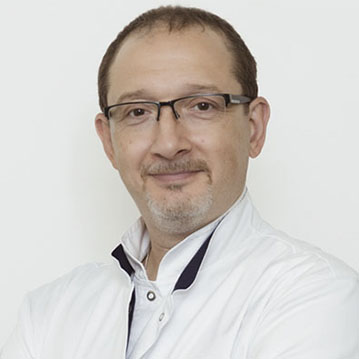 Rasner Pavel Ilyich
Head of the Urology Clinic, Deputy Chief Physician for Urology, Urologist
Work experience:

28 years

Academic degree:

Doctor of Sciences, PhD, professor

Medical category:

Высшая квалификационная категория

Reception at:

ул. Лобачевского, дом 42, стр. 4
Make an appointment
Main information
Directions
Reviews
Rules of life
Education:
1994, graduated from the Moscow Institute of Mathematics and Architecture named after N. A. Semashko. Honors degree.
1999, he defended his thesis for the degree of candidate of medical sciences on the topic "Modern possibilities of drug treatment of benign prostatic hyperplasia."
2000, internship at KEN Clinic (Berlin, Germany).
2004, internship at the Amsterdam Medical Center (Holland).
2008, training in robot assisted operations in Strasbourg (France).
2008, graduated from the program of additional (to higher) education, majoring in "teacher of higher education".
2012, training in robot assisted kidney resection in the Czech Republic.
2014, internship at ORSI hospital (Aast, Belgium) in robot assisted surgery.
In 2016, he defended his thesis for the degree of Doctor of Medical Sciences on the topic "The choice of the method of surgical treatment of localized prostate cancer."
2018, assigned the status of "Moscow doctor".
2019, laureate of the 2019 Moscow Prize in the field of medicine for the creation of the Moscow Robotic Program.
Experience:
From 1994 to 2009 - Urologist Clinical Hospital №50.
From 1999 to present - employee of the Department of Urology, MGMSU named after A.I. Evdokimova
From 2009 to 2020 - Head of the Urology Department at the City Clinical Hospital named after S. I. Spasokukotsky.
Clinical Trials Experience:
From 1996 to 2004 - as a co-researcher in GCP studies of phases II, II and IV.
Since 2017 - coordinator of two multicenter studies.
Procedures and manipulations:
He owns the entire spectrum of laparoscopic, robot-assisted, endoscopic and open surgical interventions on the kidney, prostate and bladder.
He has extensive experience in performing transurethral resections.
Since 2004, he has been actively involved in laparoscopic surgery.
Since 2008, performs robot-assisted operations on the DaVinci surgical system.
Regularly performs radical prostatectomy, nephrectomy, kidney resection and plastic surgery for hydronephrosis.
He has extensive experience not only laparoscopic and endoscopic, but also "open" surgery.
It performs over 250 operations annually.
Professional development and achievements:
Professor, Department of Urology, Moscow State Medical University named after A.I. Evdokimov.
Member of the Russian Society of Urology.
Member of the Board of the Russian Society of Urology.
Member of the European Urological Association.
Member of the American Urological Association.
Member of the Russian Society of Oncourologists.
He is the author of more than 300 publications in the Russian and foreign press, chapters in six monographs, sections in the National Clinical Recommendations for Urology and Oncourology, 8 methodological recommendations of the Moscow Department of Health.
Invited expert teacher at the Moscow Urological School.
He gives lectures and reports at All-Russian and international conferences, congresses and symposia on the problems of urology, urogynecology and andrology.
Fluent in English.
I am not a superstitious person, but I have a custom: every time I start an operation, I say: "With God!".
The complexity of the operation depends not so much on the clinical case as on the individual anatomy. Our plans are our plans, but the human body makes its own adjustments.
At the age of 12, I had already decided on the choice of profession - I performed the first injection and took an electrocardiogram.
30 years ago, I never dreamed that operations would be carried out with the help of robots, in those days it was space, and now it is space, only "available".
My first injection did not come out the first time: the needles were reusable, blunt and some effort had to be made. For the rest of my life I remembered how the patient's neighbors in the ward laughed at me.
I remember my first operation very well. I was helped by a doctor who also felt not very confident. He was worried, and I was even more worried. The operation was very simple and went well. The objective complexity of the operation on a scale from 1 to 5 was minus 1. Now it's even ridiculous to remember this.
You can be an academician twice, but once in a hundred operations something can go wrong.
I absolutely hate TV shows about doctors. First, they are always insufficiently reliable from a professional point of view. But the main thing is that it can be very insulting for the image of "colleagues"...
I can't watch sitcoms, especially French ones. I do not understand how for 30 minutes one person cannot explain primitive things to another. It's not funny.
Doctors, of course, are not inhabitants of heaven, but they cannot be turned into a laughing stock and at the same time demand respect for the profession.
I am a rational romantic - I nurture romanticism in myself, but at the same time I try to be rational in my decisions.
I was never afraid of blood. I believe that we are very adaptive creatures - it is worth putting any person into our medical reality, and within three weeks he will get used to and stop paying attention to the external attributes of the profession. It is important to see the main thing!
Anyone is afraid to undergo surgery, and that's okay. The task of the doctor is to explain to the patient all the risks and convey the information so that he makes an informed choice. Explain and encourage. After talking with the doctor, the patient should feel better!
The doctor should coordinate any decision with the patient, as there are often several treatment options, each of which has its own advantages. Authority is not the best quality for a doctor. It is important to make the patient like-minded - that is half the battle.
Once, while still students, an operation was performed in the vivarium to ligate the femoral artery in a dog. At some point we lost control of the situation ... Our teacher quickly pushed the novice surgeon away, and in a few movements, without even having time to put on gloves, saved the "patient". It's like a reflex of a professional - if seconds count down - there's nothing to think about! I think I would do the same now, but then it made a huge impression on me.
Cutting properly and sewing well is not an art, it is a craft. But to cure a patient is already an art!