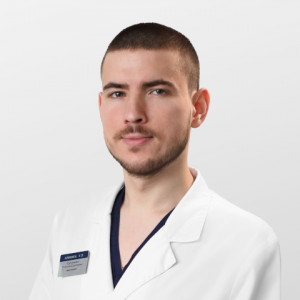 Surovikin Maxim Sergeevich
Urologist
Holds reception in branches:
K+31 on Lobachevskogo
| st. Lobachevskogo, 42/4
Treatment Profile
Diagnosis and treatment of a wide range of urological diseases of the profile (infectious diseases of the genitourinary system, erectile dysfunction, ejaculation disorders, urolithiasis, benign prostatic hyperplasia, neurogenic urinary disorders, etc.).
Endoscopic manipulations (ureteroscopy, cystoscopy, bladder catheterization, ureteral stenting, etc.).
Surgical treatment of urological diseases (circumcision, varicocelectomy, hydroceletomy with testicular plasty, etc.).
Ultrasound examination of the kidneys, bladder, prostate (including TRUS), scrotum organs.
Comprehensive urodynamic study (CUDI)
Urodynamic studies (uroflowmetry with the determination of residual urine).
The doctor explained to me in detail the goals of the study, described the procedure itself, and warned me about possible discomfort. But they weren't. All manipulations were performed professionally and painlessly. Maksim Sergeevich prepared a qualified conclusion and handed it over to me. Politely and convincingly gave the necessary recommendations. Excellent specialist. Thank you!

Write a review