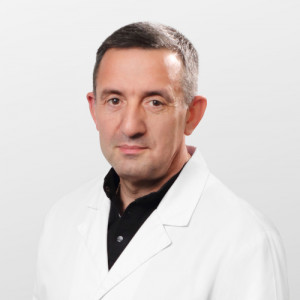 Tereshchenko Suren Alexandrovich
Doctor urologist-andrologist
Degree:
Doctor of Sciences, PhD
Holds reception in branches:
K+31 on Lobachevskogo
| st. Lobachevskogo, 42/4
Treatment Profile
Diagnosis and treatment of male infertility.
Treatment of obstructive forms of male infertility using microsurgical techniques: microsurgical spermatozoa extraction (MD-MESE/TESE), Marmar varicocelectomy.
Male genital surgery: surgical treatment of phimosis, Peyronie's disease and deformity of the penis, various developmental anomalies, hydrocele, cysts of the epididymis, lengthening and thickening of the penis.
Diagnosis and treatment of hormonal deficiency (age-related androgen deficiency), obesity in men.
Diagnosis and treatment of acute and chronic inflammatory diseases of the urinary tract and organs: pyelonephritis, prostatitis, cystitis, urethritis, orchitis, epididymitis, urolithiasis.
All types of sexual disorders: conservative therapy using the latest highly effective means and methods.
A full range of surgical interventions, including microsurgical, modern methods of treatment of accelerated ejaculation (premature ejaculation).
Men's health in general: anti-aging medicine, youth prolongation, prevention of diseases and diseases of aging.