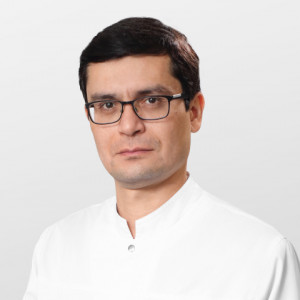 Soblirov Timur Borisovich
Urologist
Department:
Urology, Home visiting service, Hospital at home
Holds reception in branches:
K+31 on Lobachevskogo
| st. Lobachevskogo, 42/4
Treatment Profile
Diagnostics and treatment of almost all urological and andrological diseases of the outpatient profile (including specific and non-specific inflammatory diseases of the urogenital tract, erectile dysfunction, ejaculation disorders, male infertility, urolithiasis, BPH, etc.);
Endoscopic manipulations (ureteroscopy, cystoscopy, "touching" of the seminal tubercle, etc.), bougienage of the urethra, catheterization of the bladder;
Surgical treatment of urological diseases;
Ultrasound examination of the kidneys, bladder, prostate (including TRUS), scrotum, penis.
Many thanks to Timur Borisovich for professionalism, efficiency and ability to inspire hope and support!
I would like to thank my doctor! I'm glad I came across you! I recommend to everyone! A professional in his field! Very educated and responsible!
Thank you very much Timur Borisovich! Very knowledgeable, caring and wonderful doctor! Briefly explained everything clearly. Thank you!
I am immensely grateful to Dr. Soblirov Timur Barasbievich!!! Thanks a lot! Came with one ailment, immediately discovered another. Very happy with the treatment!
Many thanks to Timur Borisovich for the treatment, everything is at the highest level.
If you make an appointment with a urologist, then only to Timur Barasbievich! A wonderful doctor, a real professional and also a very nice little man. Many thanks to Timur Barasbievich for the treatment. I've been going to him for several years now and recommend him to all my friends!

Thank you very much, doctor! You helped me a lot to cope with the disease. I am immensely grateful to you, God bless you all the best! All the best!
Thank you, Timur Borisovich! He treated professionally, competently in the shortest possible time. I am very grateful to you, before that I have bypassed so many doctors. Thank you Doctor! All the best to you!
Write a review