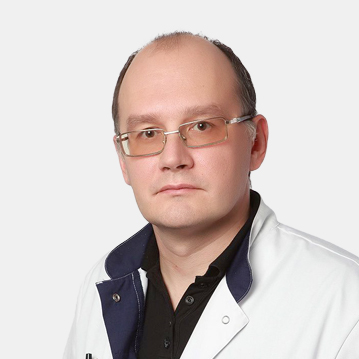 Malygin Sergei Evgenyevich
Oncologist-mammologist, surgeon
Work experience:

26 years

Reception at:

ул. Лобачевского, дом 42, стр.4
Make an appointment
Main information
Directions
Reviews
Education:
1995 - RSMU, specialty - medical business.
1997 - Russian State Medical University, clinical residency, specialty - oncology.
2000 - Russian State Medical University, postgraduate study, department - oncology
Further education courses:
1996 - Laser Medicine
1998 - Microsurgery
2002 - Surgery
2003 - Fundamentals of Pediatric Oncology
2004 - Oncology certification cycle
2007 - Endoscopic Surgery
2007 - Surgery primary retraining
2009 - Oncology certification cycle
2012 - Surgery Certification Cycle
Scientific activity:
He is the author and co-author of more than 80 scientific papers
Area of professional interests:
He is a leading specialist in the section of simultaneous breast reconstruction for cancer, oncoplastic surgery for breast cancer, reconstructive surgery for hereditary breast cancer, minimally invasive surgical treatment of benign breast pathology.
Professional achievements and recognition:
Full member of the Russian Society of Plastic, Reconstructive and Aesthetic Surgeons (ROPREH) Full member of the European Society of Mammologists (EUSOMA) Member of the Public Association "Aesthetic Medicine"
Donnelly N.Yu.
24.11.2020
Dr. Sergei Evgenievich Malygin is the coolest oncologist surgeon, and I was lucky that he agreed to operate on me, because he doesn't take everyone. It is a great fortune to be his patient. Personally, I was looking for a doctor for 3 months about different countries, despite the fact that I needed an urgent operation. It sounds rather strange, but I took the risk of delaying the operation because a good result was more important to me than just surviving at any cost. After all, I have one body and one life, and it was important to both survive and preserve a beautiful body. This requires a high-level specialist. Serey Evgenievich is not only golden hands, but also a bright head and humanity, this is such a rare combination in the modern world, where a doctor is obliged to observe the basic rule, the covenant which he promised to follow in his work and it is so difficult to fulfill in practice, this is the "DO NOT HARM" rule. It is almost impossible to make it so that after the operation it would be better than it was before the illness ... This is an art that Dr. Malygin masterfully masters. In addition, Sergei Evgenievich is a man of a new formation, it is so valuable that such doctors have finally appeared in Russia, this is an absolutely disinterested person, this does him honor, and the "Honest Name" is dear in our time. I am very grateful to Doctor Malygin Sergey Evgenievich for his work, for his attitude, for his advice and support, for my recovery, for my new, improved body. If someone is looking for a doctor and I advise you to ask only to him, if he agrees, you are in good hands.
Maria
11.11.2020
Very attentive doctor. This is not the first time I have seen him. The doctor told me everything and answered my questions.
Anonymously
05.10.2020
Everything suited me. I was happy with everything, that is, with the reception and the doctor. The doctor answered all the questions that I asked him and, in principle, I still intend to cooperate with him, I am going to visit again. This time the doctor consulted me, he examined me as a mammologist. In my situation, the diagnosis is still in question, since it cannot be delivered in 1 visit, therefore, while I have remained under the supervision of a doctor, I intend to return to him again in 3 months. I believe that Sergei Evgenievich has a very good manner of communication, we communicated with him on equal terms, despite the fact that I do not understand anything in medicine, but he explained everything thoroughly and clearly. The reception took about 40 minutes in total. At the first stage, I believe that he is a professional in his field. To date, I was completely satisfied with everything, and then we'll see.
Helena
08.09.2020
The doctor is very good, he performed an operation on me, looked at me, said that everything was very good and invited me to the next appointment when it was necessary. The doctor is responsive, very sociable, explains everything clearly. I have been with him since February and have never seen him in a bad mood. I am delighted!
Elena
20.03.2019
I did the operation at Sergei Evgenievich on December 22, everything went fine, no complications or visible scars, an excellent doctor with the right approach to the health of patients. Thank you very much!
Feedback on facebook
08.01.2018
Sergey Evgenievich Malygin is an excellent mammologist-oncologist. This is where no woman wants to go, but if you really go to Sergei Evgenievich. A balanced approach without agitation and pressure. His calmness allows him to find his head in a difficult situation. Thank you.
Olga
03.08.2014
I would like to express my deep gratitude to the very best doctor Malygin Sergey Evgenievich for his professionalism, attentiveness and truly golden hands. Sergey Evgenievich, thank you for everything! After each visit to you (and this is for almost 12 years), I always feel absolutely calm about my health as a person and I know that with any health problem I can turn to you and I will always receive the correct and necessary help or very necessary advice ... Thanks you! Girls, women, if you have problems with the mammary gland, go straight to Sergei Evgenievich and do not hesitate at all - they will listen to you, they will definitely help you and, most importantly, you will be healthy!