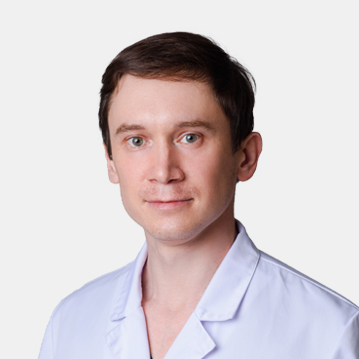 Maltsev Andrew Vladimirovich
Surgeon
Work experience:

13 years

Reception at:

ул. Лобачевского, дом 42, стр. 4
Make an appointment
Main information
Directions
Reviews
Education:
Chelyabinsk State Medical Academy (ChelGMA), specialty "medical business", graduation year 2007.
Internship in General Surgery at ChelGMA, graduation year 2008.
Further education courses:
Further training in surgery in the amount of 144 hours - April 2013
Experience:
09.2008 - 05.2009 City Polyclinic №5, Chelyabinsk, surgeon
06.2009 - 08.2011 Regional Clinical Hospital №4, Chelyabinsk, surgeon
09.2011 - 09.2014 Regional Clinical Hospital No. 3, Chelyabinsk, surgeon
10.2014 - 01.2017 Argayash central district hospital, surgeon
Since April 2017 - surgeon of the K + 31 clinic
Professional skills and possession of unique techniques:
Outpatient procedures and operations:
removal of neoplasms of soft tissues (atheromas, lipomas, papillomas, fibromas, nevi) by the surgical method and using an electric knife,
taking surface tissue samples for biopsy,
treatment of inflammatory diseases of soft tissues (boils, carbuncles, ingrown hairs, soft tissue abscesses, panaritium, paronychia)
treatment of ingrown toenails, incl. with the treatment of the nail bed with a coagulator, with plastic surgery of the nail bed,
medical and diagnostic punctures of fluid accumulations and cysts (seromas),
treatment of callus calluses, the so-called Shipits, Shipig.
dressings for ulcers, bedsores, purulent wounds,
primary and secondary surgical treatment of wounds, including with cosmetic stitches.
treatment of infected wounds
foreign body removal
consultation of patients with vein pathology (varicose veins, chronic venous insufficiency, thrombophlebitis),
consultation of patients with diseases of the abdominal organs, including acute diseases of the abdominal cavity (hernias, cholecystitis, appendicitis, pancreatitis, diverticulitis, neoplasms).
bandaging after various surgical interventions, removal of postoperative sutures.
Koroleva Natalia Mikhailovna
30.09.2021
I would like to express my sincere gratitude and deep gratitude to the surgeon Maltsev Andrey Vladimirovich. An excellent doctor, a real professional! He did his job quickly, clearly, accurately, while being very polite, friendly and attentive. A wonderful person and the best surgeon in this clinic. For a long time I heard from friends and also from other doctors of the clinic k + 31 that Maltsev is the best! and now she herself is convinced of it. I will recommend to everyone and next time I myself only to him!
Novel
15.07.2021
Professional !!! He was very polite, competent, explained everything clearly / interestingly, performed a finger operation.
Tatyana
20.06.2021
An attentive, friendly, competent doctor. In my case, he surgically removed the skin nevi, explains everything in detail up to the analysis - histology. Everything healed quickly and without complications.
Tatyana
27.09.2020
I want to thank Andrey Vladimirovich for his professionalism and the most sincere concern! I turned to him in connection with the progressive varicose veins against the background of pregnancy. He carried out the examination very carefully and accurately, with the help of an ultrasound, he clarified one moment that worried me, commented on my situation in detail, gave many valuable recommendations and, which is also important, encouraged me. This doctor takes the problem of a person whom he sees for the first time in his life close to his heart, and takes on its solution as if he was facing a loved one. Thanks to this attitude, you feel that you can rely on the doctor's opinion, it instills confidence and gives calmness even in a difficult situation. Thanks!
Elena Leonova
25.04.2019
Very attentive and knowledgeable doctor. At the same time, he also explains everything clearly. Friendly. Yesterday I was in the bandaging for the last time. I won't say that I regret it, but I really liked the doctor very much.
Elena
27.03.2019
A very competent and attentive doctor. He told in detail what and how to do at home. The dressings are done carefully, not painful, and at the same time thoroughly. You feel in good hands! Thank you very much! Good luck!