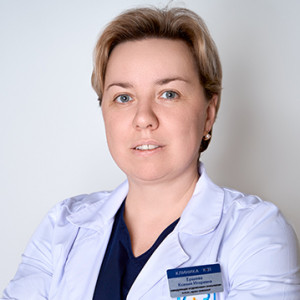 Ershova Ksenia Igorevna
Head of department, oncologist
Department:
Oncology, Drug therapy
Первая квалифицированная категория
Holds reception in branches:
K+31 on Lobachevskogo
| st. Lobachevskogo, 42/4
Treatment Profile
Engaged in the diagnosis and treatment of malignant neoplasms (cancer, sarcoma, lymphoma), conducts outpatient appointments. Conducts examination, diagnosis, treatment and prevention of breast diseases, in most cases not related to oncology: mastopathy, lactostasis, cysts and other benign neoplasms in the mammary gland.
Three years ago, Ksenia Igorevna was my doctor when I underwent a complex chest operation, and I am still grateful to her for her kind attitude and endless optimism with which she charges her patients, I can say for sure that her patients recover much faster. And the final stage of the operation also took place with Ksenia Igorevna, and everything is fine, the stitches have been removed, and I leave the clinic with the memory of a wonderful doctor who I want to turn to again and again. Thank you Ksenia Igorevna for my health.

Ksenia Igorevna is a wonderful doctor, she helped a lot, literally took my mother out after a complex oncological operation, and then, despite her age, she performed 6 courses of chemotherapy perfectly and without complications, although many said that my mother would not survive. It is only thanks to Ksenia Igorevna that my mother has been feeling fine for 4 years now. Thank you!

I know this doctor very well. She operated on my gynecomastia. I am very pleased with the result.
28.02.2022
Akhmetov Mazheken Maksutovich
Write a review