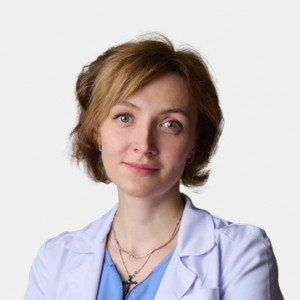 Karpova Maria Andreevna
Head of the mammological center
Holds reception in branches:
Treatment Profile
Digital mammography, tomosynthesis.
Multiparametric ultrasound diagnostics of breast diseases.
3D automated ultrasound.
Interventional diagnostics (breast biopsy).
Contrast studies - ductography, contrast spectral mammography.
Instrumental diagnostics of the mammary glands, which includes:

Ultrasound of the mammary glands and regional lymph nodes.
Mammography (contrast spectral mammography, tomosynthesis).
MRI of the mammary glands.
Interventional diagnostics in mammology (punctures under ultrasound, core biopsy, trephine biopsy under stereotaxic control, interstitial marking).
Conducting ductography.
Excellent doctor with a very caring and professional attitude towards the patient. Thanks a lot!
Was at the appointment with the mammologist Karpova M.A. Great professional, explained everything! Definitely recommend!
Having visited Maria Andreevna Shershneva's reception, I can't help but write a review. A qualified doctor, attentive approach, neatness and warmth. Thank you so much.
Write a review