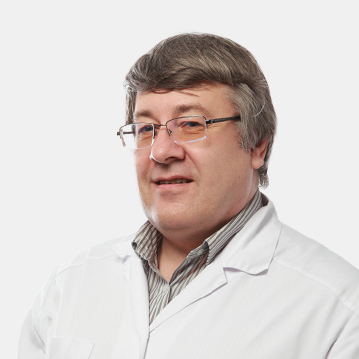 Abalmasov Vladimir Georgievich
Leading specialist in ultrasound diagnostics
Work experience:

38 years

Academic degree:

Doctor of Sciences, PhD, professor

Reception at:

ул. Лобачевского, дом 42, стр.4
Make an appointment
Main information
Directions
Reviews
Education:
1984 - Kemerovo State Medical Institute, specialty - medical business.
Various specializations in ultrasound examination of the heart and blood vessels, including in Germany and the USA.
Area of professional interests:

Ultrasound examinations of the cardiovascular system.
Scientific activity:
Under the leadership of Abalmasov V.G. 14 master's theses and 3 doctoral theses were defended.
Professional achievements and recognition:
About 120 publications, including two monographs on current issues of ultrasound diagnostics.
Full member of the European Society of Radiologists.
Elena Leonova
21.01.2020
A very high professional and pleasant person. Explains. Doesn't scare unnecessary things :) Doesn't `` spin '' for anything.
Elena
29.09.2015
Thank you very much to Vladimir Georgievich for his highest professionalism! Really amazing doctor, such SPECIAL one in a million!
Elena Sverchkova
31.10.2013
Vladimir Georgievich, thank you very much for your warm attitude, tact and professionalism! You are an amazing person and an amazing doctor!
Zaretta Abury
28.10.2013
Vladimir Georgievich, thank you very much for your attentiveness and delicacy. You are a wonderful doctor and empathetic person.