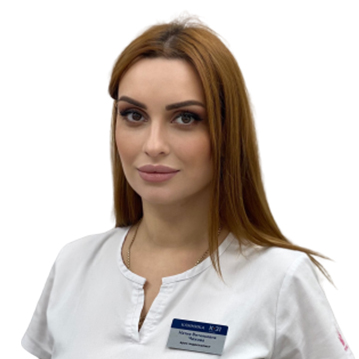 Chekhoeva Natia Vitalievna
Endoscopist
Work experience:

8 years

Medical category:

Врач первой врачебной категории

Reception at:

ул. Оршанская, д. 16, стр. 2
Make an appointment
Main information
Directions
Reviews
EDUCATION
Diploma in the specialty "General medicine", SOGMA, North-Western State Medical University named after I.I. Mechnikov.
Clinical residency at the Research Institute of emergency medicine named after I.I. Dzhanelidze.
REFRESHER COURSES
2019 - professional retraining in the specialty "Endoscopy", on the basis of the Multidisciplinary Training Center DPO "Educational center", Moscow.
PROFESSIONAL SKILLS
Esophagogastroduodenoscopy.
Ileocolonoscopy.
Radiofrequency ablation of the mucosa in Barrett's esophagus.
Digital and classic chromoscopy.
Removal of epithelial neoplasms of the upper and lower gastrointestinal tract by mucosal resection.
Endoscopic arrest of gastrointestinal bleeding.
Extraction of foreign bodies.
Experience with expert endoscopic equipment.
PROFESSIONAL DEVELOPMENT
Member of the All-Russian society of endoscopists.
Participates in the annual scientific all-Russian and international congresses, symposia on endoscopic, gastroenterological and surgical problems.
KNOWLEDGE OF FOREIGN LANGUAGES
Examination of children: from 3 years old.