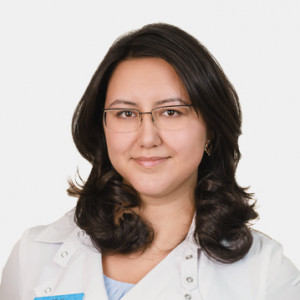 Vishnevskaya Anna Vadimovna
Radiologist
Department:
X-ray, Diagnostics, CT scan, MRI, Densitometry
Holds reception in branches:
K+31 Petrovskie Vorota
| 1st Kolobovsky lane, 4
Treatment Profile
Carries out outpatient reception of adult patients of traumatological, mammological, gastroenterological and other profiles. The doctor's area of practice includes radiography and fluoroscopy, urography, mammography, computed and magnetic resonance imaging (CT, MRI), as well as studies with contrast enhancement. He has the skills to perform computed tomography of the brain, chest organs, musculoskeletal system, abdominal organs and retroperitoneal space, kidneys and adrenal glands, ENT organs. The doctor is engaged in CT studies of traumatic and post-traumatic changes in dynamics.