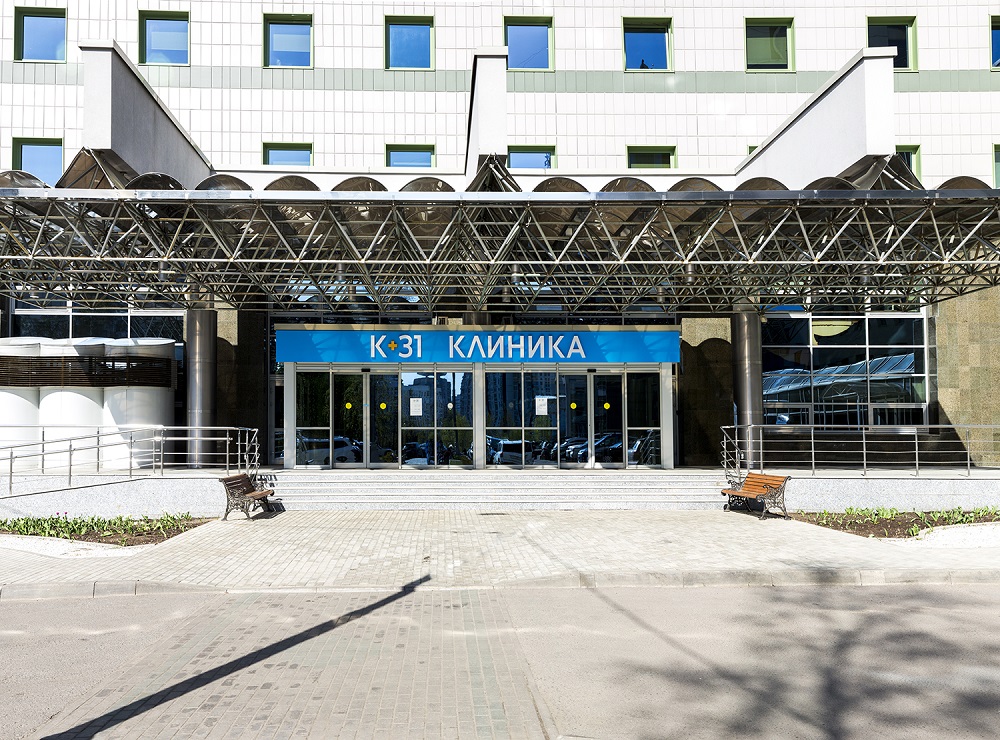 Clinic K + 31 on the street Lobachevsky is a multidisciplinary medical center that combines a polyclinic, a multidisciplinary hospital, an operating unit, an intensive care unit, almost all types of outpatient services, including pediatrics, dentistry, ophthalmology and rehabilitation.
The clinic has a round-the-clock emergency room, laboratory and a department of radiation diagnostics.
Dozens of surgeries are carried out daily in various fields, including general surgery, gynecology, urology, coloproctology, endoscopy, plastic surgery, otorhinolaryngology, orthopedics-traumatology, and eye microsurgery.
It is possible to conduct early rehabilitation after injuries and surgical treatment. We strive for convenience, an individual approach and the most understandable treatment process. For your convenience, we are ready to conduct examinations in emotionally and physically comfortable conditions in 1-2 days. In the clinic, high-level specialists from more than 40 specialties are receiving. The clinic has several service levels for patient care.
Our advantages
An integrated approach to the methodology of providing medical services: outpatient care, diagnostics, laboratory tests, in-patient treatment, surgery, rehabilitation - all in one clinic.
Highly qualified medical staff with many years of experience (doctors of the highest category, candidates and doctors of medical sciences). Continuity of medical staff. Organization of consultation of any specialist of the city and country is possible.
The latest medical technology, modern medical equipment from leading manufacturers (Japan, Germany, Great Britain, Italy, etc.).
Diagnostics, including CT, MRI, expert-grade ultrasound systems and a wide range of laboratory tests.
Equipping all units with a single medical information system (electronic storage of the medical history, the ability to transfer images, test results, doctor's conclusions to electronic media, etc.).
Multidisciplinary comfortable hospital.
High level of service.
Convenient working hours for working patients.
A rehabilitation service offering comprehensive rehabilitation treatment programs.
A variety of attachment and screening programs for cost and content.
The address
119415, Moscow, m. Prospect Vernadsky, st. Lobachevsky, house 42, building 4. AO "K + 31"
Contacts
Tel: 8 (499) 999-31-31
E-mail: clinic@k31.ru
For the press: media@k31.ru
Parking
To quickly order a pass for free parking K + 31, send us a message on WhatsApp: +7 (915) 493-95-92. Provide the address of the clinic where you are recorded, the make and number of the machine, as well as the name of the patient.
Mode of operation
Weekdays:
Outpatient department - from 08.00 to 19.00
Multidisciplinary hospital - around the clock
Saturday:
Outpatient department - from 09.00 to 18.00
Multidisciplinary hospital - around the clock
Sunday:
Outpatient department - from 09.00 to 16.00
Multidisciplinary hospital - around the clock
Map