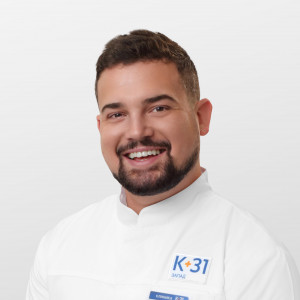 Marchenko Vladimir Vladimirovich
Urologist, andrologist
Department:
Urology, Home visiting service, Hospital at home
Holds reception in branches:
K+31 West
| Orshanskaya, 16/2; Ak. Pavlova, 22
Treatment Profile
Carries out diagnostics and treatment of sexually transmitted diseases, treatment and prevention of infectious and inflammatory diseases of the genitourinary system. Performs instillation of drugs into the bladder, treats urolithiasis, benign prostatic hyperplasia (BPH). He uses physiotherapeutic methods in his work: laser therapy, magnetotherapy, shock wave therapy on the Matrix and Andro Gin devices. Carries out diagnostics and treatment of erectile dysfunction, male menopause, male infertility, premature ejaculation, treats patients with oncological diseases of the genitourinary system. Performs minor surgical interventions in urology.
The appointment lasted about an hour, the doctor examined me completely, found out all the complaints and compiled a detailed history of my disease (CPPS). It was clear that Vladimir is passionate about his profession, is developing in it and is not trying to impose anything unnecessary) Very grateful, I will definitely come again

I came with complaints of constant exacerbations of cystitis, which did not give me rest (frequent and painful urination). I went to different doctors for a long time, but without any result - I was prescribed only kanefron. Vladimir Vladimirovich examined me, made an examination, which no one had done to me before, and found out the cause of my pain. He prescribed another therapy that helped me. And now for 5 months I live a quiet life. There would be more such attentive and competent doctors as Marchenko V.V.

Many thanks to Vladimir Vladimirovich! After going through several doctors, I did not receive such a quick and accurate diagnosis as from Vladimir Vladimirovich. A young doctor, but with great experience and a great desire to learn new methods of treatment. I recommend the doctor as an experienced and responsive specialist!

We turned to the doctor in April 2022, a severe/oncological patient, the doctor is very attentive, sensitive, competent. For the past six months, he has been helping at all stages and on all issues. Responds quickly and clearly in emergency situations, treats the problem with maximum involvement. Liked: * competent, sensitive specialist * knows how to find an approach * responds quickly in emergency situations * involvement

The second time in my life I write a review about the doctor and the first - a positive review. The doctor, despite his young age, seemed to be the most competent, knowledgeable and self-confident specialist, while showing indifference to the patient's problem and a desire to help. In addition, Vladimir communicates in as much detail as possible, attaching importance to all the little things, old analyzes, etc., and absolutely refutes the stereotype that doctors have a different (for the worse) attitude towards VMI patients. While the course of treatment is not completed, but part of the problem, I want to believe, has been solved. I chose a doctor based on the principle of the nearest location of decent clinics to the house and did not lose.

Excellent doctor. I really liked the attention to detail, interaction with the patient, friendliness and professionalism. Recommend.
I recommend this professional! Rest assured of his professionalism and competence. Before the consultation, Vladimir Vladimirovich had a chance to visit 4 "specialists" and they all made different diagnoses and imposed a lot of paid procedures. Vladimir Vladimirovich put everything on the shelves and, having carried out spot analyzes, finally explained what was happening with my body. PS I myself came to him on the recommendation of his classmates.

Write a review