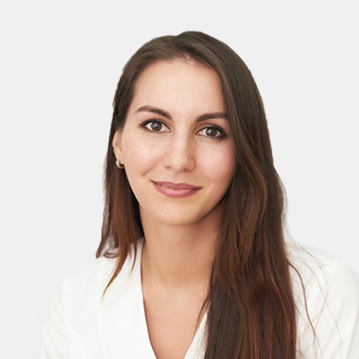 Zakirova Gulnara Shakirovna
Doctor dermatologist, cosmetologist
Work experience:

8 years

Reception at:

ул. Лобачевского, дом 42, стр.4
Make an appointment
Main information
Directions
Reviews
Education:
2007 - 2013 Russian National Research Medical University named after N.I. Pirogov ("second honey", former Russian State Medical University named after N.I. Pirogov), medical faculty, specialty - medical business.
2013-2015 FSBEI HPE MSUPE Medical Institute for the Advancement of Physicians, clinical residency in the specialty - dermatovenerology.
2015 - 2018 VPO MGUPP Medical Postgraduate Medical Institute, Graduate School at the Department of Skin and Venereal Diseases with the course of cosmetology, with qualification - n repodavatel researcher.
Training:
2011. ChOU DPO "Institute of Professional Massage" - specialized courses on the program "medical massage".
2014-2015 CHUDPO "Institute KEMVI-House of Russian Cosmetics", professional retraining (576 hours), specialty - cosmetology.
2018 internship under the injection rejuvenation program at Dr.Lehavit Akerman Clinic , Tel Aviv (Israel).
Additional Information:
Laureate of the I degree of the X International Forum of Dermatovenerologists and Cosmetologists 2017.
Laureate of the III degree of the IX International Forum of Dermatovenerologists and Cosmetologists 2016
Regular participation in International and All-Russian forums, congresses, congresses and seminars in the specialties: dermatovenerology, cosmetology.
Scientific monographs, articles and publications:
Author and co-author of more than 10 scientific publications.
Area of Professional Interest
- Diagnosis and treatment of bacterial, viral, fungal diseases of the skin and nails, comprehensive treatment of acne (acne), post-acne, rosacea.
- Dermatoscopy and removal of benign skin tumors (papillomas, keratomas, warts, moles) by methods:
electrocoagulation
cryodestruction (liquid nitrogen),
laser destruction.
- Preventive and anti-age medicine
Plasma therapy (face, neck, décolleté, hands and scalp)
Biorevitalization (face, neck, décolleté, hands)
Contour plastic
Correction of facial wrinkles and hyperhidrosis (Botulinotherapy)
Mesotherapy (face, neck, décolleté, hands and scalp)
Microcurrent therapy
Ultrasonic face peel
Mechanical face peeling, microdermabrasion, disincrustation (galvanic cleaning)
Ultrasound therapy (phonophoresis)
Gas-liquid peeling
Chemical peels
Laser rejuvenation (polishing, peeling)
Radio frequency rejuvenation (RF - lifting)
Ultrasonic lifting Ulthera ™ System
Cryolipolysis (ZELTIQ Coolsculpting)
Cryotherapy (face, neck, décolleté, hands and scalp)
Drawing up individual rejuvenation programs
I would like to note the high professionalism of Dr. G.Sh. Z
akirova, as well as her personal qualities: sincere interest in solving my problem, close observation during the treatment process, focus on results. After 4 months of unsuccessful attempts at treatment with several doctors, on a recommendation, I got an appointment with Gulnara Shakirovna, who within 2 weeks was able to eliminate my dermatological problem irrevocably.
deploy...
Vyacheslav / 01.12.2019
Gulnara Shakirovna left only pleasant impressions. She liste
ned carefully, was able to immediately identify the problem, prescribed the necessary medications. 100% satisfied with the reception
deploy...
Alexandra / 12.08.2019