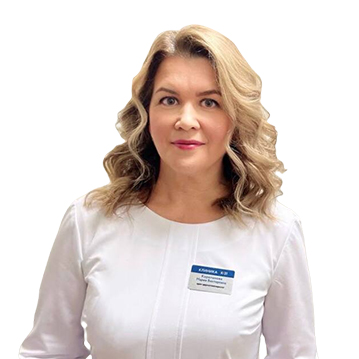 Korepanova Maria Viktorovna
Dermatovenereologist
Work experience:

26 years

Academic degree:

PhD

Medical category:

Высшая врачебная категория

Reception at:

ул. Лобачевского, дом 42, стр. 4
Make an appointment
Main information
Directions
Reviews
EDUCATION
1996 - diploma in "Medicine", Izhevsk state medical academy.
1999 - PhD thesis defense on minimally invasive surgical interventions.
REFRESHER COURSES
2013 - "Dermatovenereology", Izhevsk state medical academy.
EXPERIENCE
Medical researcher, head of the Central research laboratory of the Izhevsk state medical academy.
Dermatovenereologist at the consultative polyclinic of the Republican dermatovenerologic dispensary, Izhevsk.
PROFESSIONAL SKILLS
Diagnosis and treatment of the following diseases:
Lichens of various types.
Psoriasis.
Dermatitis (allergic, atopic, contact, neurodermatitis).
Acne.
Eczema.
Rosacea.
Seborrhea.
Viral skin diseases (papillomas, warts, herpes).
Mycoses (fungal diseases of the skin).
Genital herpes.
Gonorrhea.
Mycoplasmosis.
Papillomavirus (HPV).
Syphilis.
Trichomoniasis.
Ureaplasmosis.
Chlamydia.
PROFESSIONAL DEVELOPMENT
Author of more than 20 publications published in medical journals (Russian journal of skin and venereal diseases, Bulletin of dermatology and venereology, and others).
Current member of the Russian society of dermatovenerologists and cosmetologists.
Active participant and speaker of conferences and symposiums on dermatovenereology.