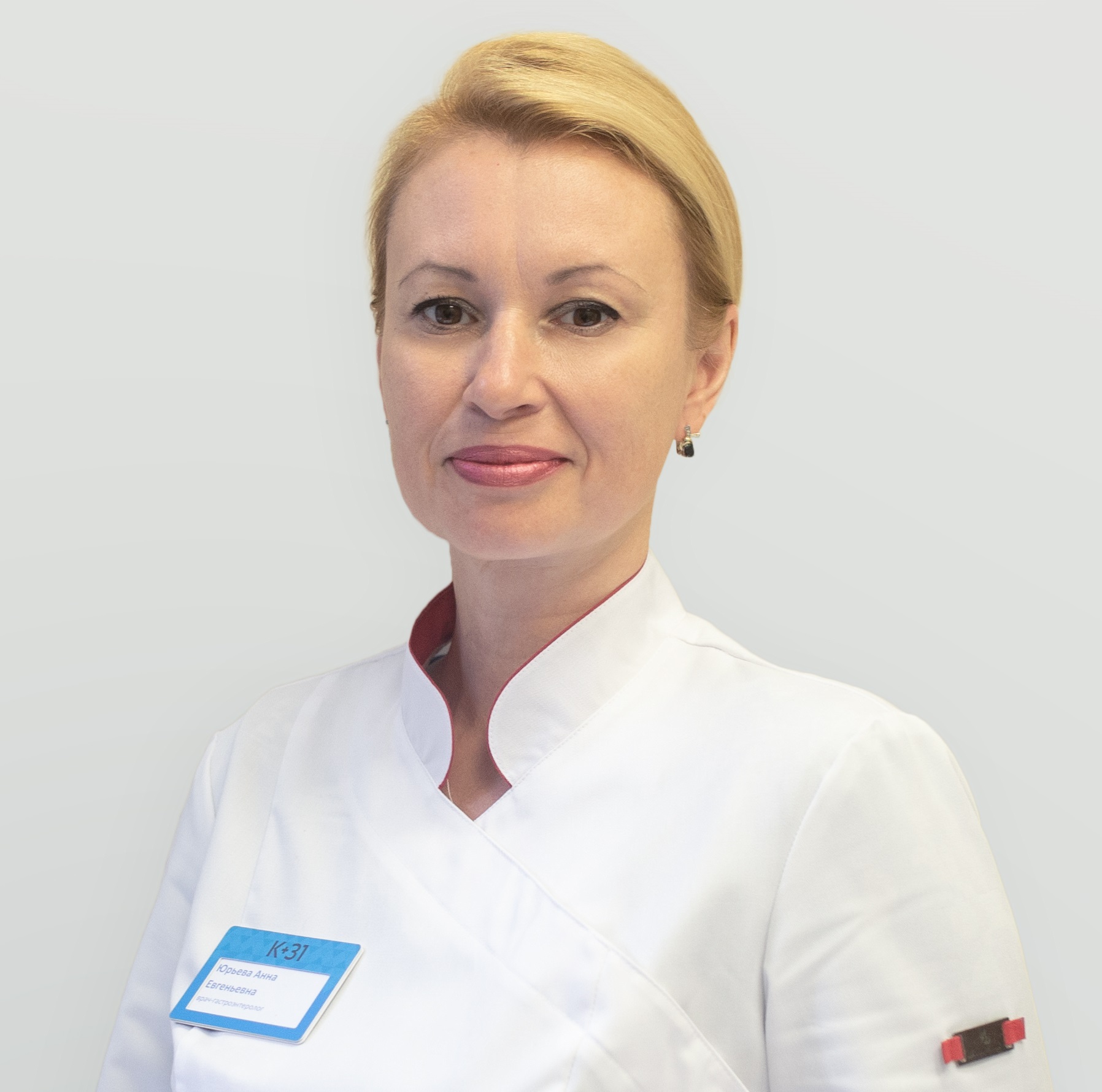 Yuryeva Anna Evgenievna
Gastroenterologist
Work experience:

23 years

Medical category:

Врач высшей категории

Reception at:

1-й Колобовский пер. дом 4
Make an appointment
Main information
Directions
Reviews
EDUCATION
1998 - Petrozavodsk State University, specialization "General Medicine".
2016 - Postgraduate study, Moscow State University of Medicine and Dentistry Evdokimova, specialization in gastroenterology.
TRAINING COURSES
09/01/2009 completed primary specialization in gastroenterology at MONIKI.
Certificate in Gastroenterology: valid until 04/30/2025.
Participant (speaker and listener) of the main specialized scientific conferences: European, Central Asian and Russian gastroenterological weeks, European and Russian hepatological weeks.
In 2017, she was a member of the European Expert Group in Barcelona on the preparation of recommendations for the eradication of H. pylori.
PROFESSIONAL SKILLS
I diagnose and treat various diseases of the gastrointestinal tract, including patients:
with gastroesophageal reflux disease;
chronic gastritis, duodenal ulcer and stomach ulcer;
with precancerous diseases of the esophagus, stomach and intestines;
with diseases of the liver (including fatty hepatosis, hepatitis), gallbladder and pancreas;
with inflammatory bowel disease, diverticular disease of the colon;
patients after resection of the stomach, cholecystectomy (removal of the gallbladder), polypectomy, accompanied by impaired digestion and absorption; dysbiosis, helminthiasis, giardiasis.
Consultation on the results of examinations carried out in other clinics and laboratories.
I consider the priority in the work of a doctor to be screening for early cancers of various localizations, professionalism, respect for the patient and a personalized approach.
I have a broad clinical thinking at the intersection of different specialties.
PROFESSIONAL DEVELOPMENT
Annual participation in all significant Russian and international symposia and conferences.
Member of the European Association of Gastroenterologists (UEG), the Russian Association of Gastroenterologists (RGA), the European Association for the Study of Liver Diseases (EASL), the Russian Association for the Study of Liver Diseases (ROPIP).
Chernysheva E.S., Babaeva E.Yu., Yurieva A.E. The microbiome of intestinal contents according to histocoprological analysis and its clinical significance. Theory and practice of combating parasitic diseases: Collection of scientific articles based on the materials of the international scientific conference. Issue 22. May 19–21, 2021 Moscow / otv. ed. E. N. Indyukhova. - M.: VNIIP - branch of FGBNU FSC VIEV RAS; Publishing House "Science", 2021.552 - 560 pages.
Andrew
12.04.2021
A very competent specialist, he turned with problems. Based on the research results, the doctor clearly identified the cause, answered my questions and prescribed an effective treatment for my gastritis and chronic pancreatitis. I am grateful to the doctor for the result and individual approach!
Maria
07.04.2021
Anna Evgenievna is a gastroenterologist of the highest level, she perfectly diagnoses and treats complex diseases of the gastrointestinal tract. 10 years ago, at an early stage, she identified and took up the treatment of a complex autoimmune bowel disease. Thanks to her experience, effective treatment, broad medical outlook, individual approach, I can afford to live a full life. I am very grateful to Anna Evgenievna!