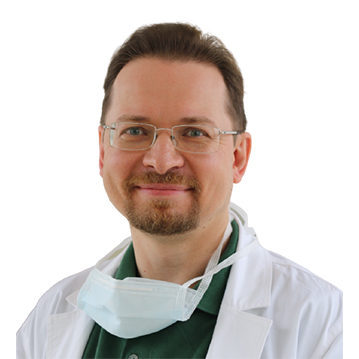 Polyakov Roman Sergeevich
Specialist in X-ray endovascular interventions
Work experience:

23 years

Academic degree:

Doctor of Sciences, PhD

Reception at:

ул. Лобачевского, дом 42, стр. 4
Make an appointment
Main information
Directions
Reviews
EDUCATION
1999 - First Moscow State Medical University named after I.M.Sechenov (MMA named after I.M. Sechenov), general medicine.
2001 - Russian Scientific Center of Surgery named after academician B.V. Petrovsky, Russian Academy of Medical Sciences, clinical residency in radiology.
2005 - defense of a Ph.D. thesis on "Coronary angioplasty in patients with coronary artery disease with low left ventricular ejection fraction" in the specialties "Cardiovascular surgery", "Radiation diagnostics and treatment".
2019 - defense of a doctoral dissertation on the topic "Aortic endoprosthetics for aneurysms and dissections".
ADVANCED TRAINING COURSES
2008 - 2018 - internships and trainings in various endovascular programs:
TransradialInterventions (France).
AdvancedInterventionalCardiology (Poland).
AdvancedCoronaryPhysiology (United Kingdom).
Intravascular imaging of the coronary arteries and assessment of the hemodynamic significance of the lesions (Holland).
Hemodynamic support in critical conditions (Germany).
Hybrid approach for recanalization of chronic coronary artery occlusions (UK).
Endovascular occlusion of the left atrial appendage with the WATCHMAN system (Germany).
PROFESSIONAL SKILLS
Interventional cardiology:
X-ray surgical interventions on the coronary arteries for various types of acute coronary syndrome.
X-ray surgical interventions for multivessel coronary lesions, including bifurcation and occlusive lesions.
X-ray surgical interventions for lesions of the left trunk of the coronary artery.
X-ray surgical interventions for congenital heart defects in children and adults.
Endovascular closure of the left atrial appendage.
Endovascular interventions on the aorta and its branches:
Stenting for aneurysmal aortic dilatations of various localization.
Stenting for stenosis of the carotid arteries.
Stenting for renal artery stenosis.
Stenting for stenosis of the arteries of the lower extremities.
Interventional radiology:
Chemoembolization of arteries in patients with malignant tumors.
Embolization of the branches of the portal vein.
Recanalization and stenting of the portal vein in patients after liver transplantation.
PROFESSIONAL DEVELOPMENT
Associate Professor of the Department of X-ray Endovascular Diagnostics and Treatment, FSBEI DPO RMANPO, Ministry of Health of Russia.
Member of the educational project Crossroads institute (AbbottVascular).
Member of the Academia educational project (Medtronic).
She is a co-author of more than 85 scientific papers, co-author in the national guide to endovascular interventions, edited by B. G. Alekyan. She constantly takes part in Russian and international symposia and conferences.
Member of the Russian Scientific Society of Specialists in X-ray Endovascular Diagnostics and Treatment.