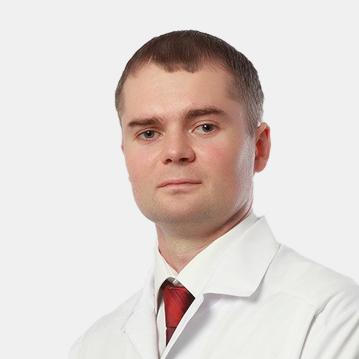 Sevalkin Sergei Alexandrovich
Head of the department of anesthesiology-resuscitation, anesthetist-resuscitator
Work experience:

20 years

Reception at:

ул. Лобачевского, дом 42, стр. 4
Make an appointment
Main information
Directions
Reviews
Education:
2002 - MMA named after I.M.Sechenova, specialty - medical business.
2002-2004 - RSCH RAMS them. Petrovsky.
Courses:
2006-2011 - Advanced training courses at the Department of Anesthesiology and Intensive Care FPLOV.
Area of professional interests:

Intensive care of life-threatening conditions. Anesthetic support of surgical, traumatological and orthopedic, oncological, urological operations using modern anesthetic procedures.
Scientific activity:
He taught at the College of Medicine "Fundamentals of Resuscitation".
Professional achievements and recognition:
He completed a course of peripheral blockade using ultrasound guidance. A course of inhalation anesthesia using modern vapor-forming anesthetics.
Member of the Moscow Scientific Society of Anaesthesiologists-Resuscitators (MNOAR).
Maria Genkina
15.12.2017
Intensive care unit! Thank you very much!!!! You are best!!!! Sergey Alexandrovich, you and your team of doctors, nurses and nurses work wonders, giving new life, new plans and hopes! The most professional attitude towards patients and a sensitive attitude towards relatives! Complete trust and mutual understanding!) If you fight for life, then only with you and only with your doctors! Thanks again for EVERYTHING !!!! Emotions overwhelm!
Alla Voliatowska
13.11.2014
Operated in the clinic on 24.09.2013. Thanks to Sergei Aleksandrovich Sevalkin for the competently administered anesthesia to me during the operation (there were no side effects), and for postoperative anesthesia during the first day already in the ward.
Agnieszka Monica
10.11.2014
Many thanks to Sergei Alexandrovich Sevalkin for carrying out a very complex operation at a high professional level. Very quickly and comfortably I recovered from anesthesia after the operation. After the operation, I felt good. As a citizen of Poland, I was pleasantly surprised by the highest standards of service in your wonderful Russian clinic, which are 100% consistent with the best European and world standards. I and my Russian husband, who was kindly admitted to my room before and after the operation, are very pleased and grateful. I wish you success in everything and all the best! Thank you so much!