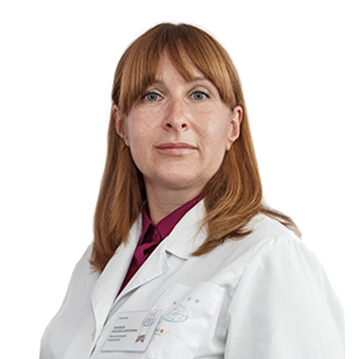 Chernyaeva Natalia Alekseevna
Anesthesiologist-resuscitator
Work experience:

23 years

Medical category:

Врач высшей категории

Reception at:

ул. Оршанская, д. 16, стр. 1
Make an appointment
Main information
Directions
Reviews
AT THE RECEPTION
Consultation, patient preparation for surgery, choice of anesthesia method, risk assessment.
Treatment of perioperative pain with prolonged epidural analgesia.
Respiratory therapy selection.
Selection of parenteral and enteral nutrition.
Selection of transfusiological therapy taking into account the disease, auto-sampling of blood.
EDUCATION
1996 - KSMU, pediatrics.
1998 - KSMU, internship in anesthesiology and resuscitation.
2008 - Russian State Medical University of Roszdrav, transfusiology.
REFRESHER COURSES
2020 - FGBOUDPO "RMANPO" of the Ministry of Health of the Russian Federation, anesthesiology-resuscitation.
2020 - FGBOUDPO "RMANPO" of the Ministry of Health of the Russian Federation, transfusiology.
PROFESSIONAL SKILLS
Anesthetic support of operations, diagnostic and therapeutic procedures, monitoring of respiration and blood circulation.
Performing general multicomponent anesthesia.
Puncture and catheterization of the central veins under ultrasound navigation, puncture of the radial artery.
Spinal, epidural anesthesia and their combination.
Intensive Critical Care. Pulmonary cardiac resuscitation.
Organization of a hospital transfusion service.
PROFESSIONAL DEVELOPMENT
Printed works, reports at conferences.
Member of MNOAR.
Central segmental blockade in the treatment of patients with large and giant abdominal hernias, assessment of the functional state of the lungs and the use of high epidural block in the prevention of respiratory disorders in hernioplasty.
KNOWLEDGE OF FOREIGN LANGUAGES