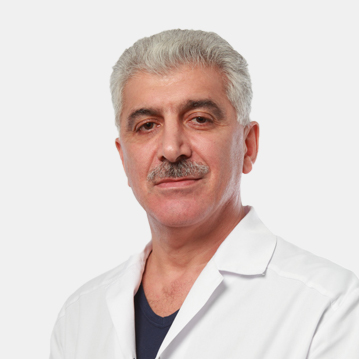 Meloyan Mkhitar Misakovich
Plastic surgeon
Work experience:

36 years

Medical category:

Врач высшей категории

Reception at:

ул. Лобачевского, дом 42, стр.4; 1-й Колобовский пер. дом 4
Make an appointment
Main information
Directions
Reviews
Education:
1986 - Altai State Medical Institute, specialty - surgery.
1986-1987 - Internship in surgery.
Further education courses:
1988 - "Emergency surgery of the organs of the chest and abdominal cavity", Barnaul.
1991 - "Vascular Surgery", Yerevan.
1995 - "General Surgery" Yerevan.
1996 - "Alternative methods of treatment of Chinese medicine" Shenyang, China.
1999 - "Aesthetic Plastic Surgery" Los Angeles
2000 - "Aesthetic plastic surgery", Moscow.
2004 - "Hair Transplantation Course", Prague, Czech Republic.
2005 - "Organization of the surgical service" Moscow.
2007 - "Mini-invasive phlebology" Moscow.
2008 - "Oral and Maxillofacial Surgery", Moscow
2011 - "Treatment and diagnosis of surgical pathologies of the abdominal organs"
2011 - "Primary specialization in reconstructive and aesthetic plastic surgery"
Area of professional interests:

1986-1991 - ambulance hospital in Biysk, department of emergency surgery;
1991-2004 - Head of the Surgical Department of Tashir Armenia;
Since 2000, after passing the primary specialization in "Aesthetic Plastic Surgery", Moscow, all types of aesthetic plastic surgeries have been carried out to date, with a constant increase in qualifications and participation in master classes by world experts in this field;
2004-2007 - Work as a leading plastic surgeon at the Medical University Center. N.I. Pirogova ";
2007 - primary specialization in phlebology, Moscow. Further development in this area with the study of American, German, French modern approaches to the treatment of varicose veins, using both traditional phlebectomy and minimally invasive methods (miniflebectomy, laser coagulation, sclerotherapy)
2008 - primary specialization in "Oral and Maxillofacial Surgery", Moscow;
2007-2012 - Work in State Clinical Hospital No. 31 "Health for You", as a plastic surgeon.

Anonymously
01.02.2022
In October, I had a planned operation with Dr. Mkhitar Meloyan and Yulia Kapitanova, I want to express my deep gratitude to these golden pens, I am immensely grateful to these people. After the operation, I spent two days under the supervision of wonderful doctors and nurses, I want to express my special nobility to everyone! Everything is at the highest level, care - attention - nutrition - cleanliness. Thank you very much !
Anonymously
24.06.2021
For several years I could not afford an open swimsuit and tight things, because I was embarrassed about my belly. After giving birth, he was very stretched, despite the fact that there were not many stretch marks, but the skin hung and I could not really pump up the muscles after cesarean, despite the fact that the whole body was put in order very quickly, but it was just like a thorn on the eye. Last year I didn't even go to the sea, citing the pandemic and fears, and in this I decided that I needed to go to a plastic surgeon. I was lucky that a friend made eyelids and advised me to Meloyan Mkhitar Misakovich. He is truly a doctor from God who does his job just perfect! Now I can not just go safely to the sea, I have returned myself, my confidence! It is very important to like yourself, to feel comfortable in your body!
Anonymously
02.04.2021
I went to the clinic with breathing problems, perforation of the nasal septum, hump, nose bridge shifted to the left, elongated nose. Plastic surgeon Mkhitar Misakovich Meloyan. The examination took place in conjunction with the ENT doctor. They all explained and said what was the best thing to do. Listened to my wishes. The reception was very soulful, in a relaxed atmosphere. The doctor made the best impressions. The medical staff knows their stuff. Everything went at the highest level. Outcome: rhinoseptoplasty. The result exceeded my expectations. Breathing was restored. The perforation of the septum was removed. The hump was removed. The nose became even, the length was reduced. The tip was slightly raised.
Elvira Sh.
15.02.2021
I would like to express my gratitude to Dr. Meloyan Mkhitar Misakovich and nurse Mozhaeva Nadezhda Vasilievna. The doctor performed the procedure quickly and clearly (removal of the neoplasm), and Nadezhda Vasilievna surrounded me with care and attention. It is very sweet and pleasant. Thanks you! There would be more such wonderful people)))
Maria Miller
14.01.2021
At the end of November, she underwent rhinoseptoplasty at Mkhitar Misakovich's. It so happened that in my entire life there were two injuries to the nose: the acquired deformity complicated the operation itself. I was afraid that the process of restoring and sculpting the nose would be very difficult, but thanks to the skillful hands of Mkhitar Misakovich, anesthesiologist Dmitry Mikhailovich and the whole team, the period passed incredibly easily, without any problems. What else was a pleasant bonus - the work of nurses and comfortable wards. Now I can finally breathe calmly without difficulty and enjoy the appearance I have acquired.
Konstantin
29.04.2019
True professional!! I recommend this specialist. Everything is just great and very competent. Health, health and once again health to this person with Golden Hands !!
Zhukova Veronika Vasilievna
03.12.2018
Golden hands, wonderful professional, amazing person !!!! You can go to Mkhitar Misakovich with your eyes closed and not be afraid of anything. Does his job GREAT. He did it to me, my friends. We are very pleased with the result. You are a genius! Thank you very much !!
Leila
24.08.2014
Many thanks to Mkhitar Misakovich for his beautiful work (abdominoplasty), performed in 2011. Wonderful surgeon! Skillful fingers!
Elena Makarova
21.08.2014
Thank you so much!!! Mkhitar Isakovich made me just a beauty. September 2013 Gold man with a heart of gold. May God grant him health and long life.
Denis
18.08.2014
Still, he did not mention everyone in his previous review: he forgot to thank the nurses from Mkhitar Misakovich's office who participated in the dressings. Thank you very much again