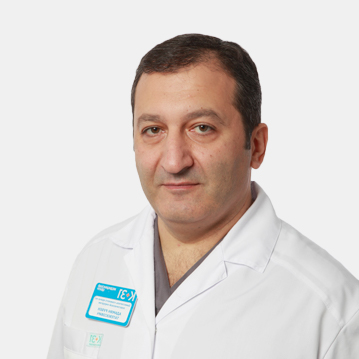 Adamyan Ruben Tatevosovich
Deputy Chief Physician for Plastic Surgery, Plastic Surgeon
Work experience:

37 years

Academic degree:

Professor

Medical category:

Врач высшей категории

Reception at:

ул. Лобачевского, дом 42, стр. 4
Make an appointment
Main information
Directions
Reviews
Education:
1979 - 1981, Yerevan Medical Institute (ERMI)
1979 - 1985, I MMI named after I.M.Sechenova - medical business
1985 - 1986, Kirov MSCh. 20 party congress - internship for general surgeons.
Area of professional interests:
Plastic surgery
Reconstructive Microsurgery
Tissue engineering
Aesthetic and reconstructive urology
Andrology and Genital Surgery
Foreign internships:
Savonna (Italy) Hand Surgery (Professor Mantero)
Paris (France) plastic surgery (Professor Marshak)
Virginia (USA) plastic surgery (Professor Gilbert)
Stuttgart (Germany) plastic surgery (Professor Gubisch)
Bon (Germany) plastic surgery (Professor Richter)
Munich (Germany) plastic surgery (professor Feller)
Scientific activity:
Author of over 400 articles on plastic and reconstructive microsurgery
Co-author of 3 monographs
18 Patents of the Russian Federation for authoring in plastic and reconstructive surgery
Scientific adviser 12 dissertations
Professional achievements and recognition:
Permanent participant in Russian and Foreign forums and congresses, as chairman of sections, speaker.
Professional associations:
OPREH (Russian Society of Plastic Reconstructive and Aesthetic Surgeons)
Association of Surgeons named after N.I. Pirogova
AAREH (Armenian Association of Plastic Reconstructive and Aesthetic Surgeons) - Honorary Member
The Annals of Plastic Reconstructive and Aesthetic Surgery Magazine - Scientific Secretary
Journal of Andrology and Genital Surgery - Member of the Editorial Board
PAAR (Professional Association of Andrologists of Russia)
Problem Commission for Microsurgery of the Scientific Council for Surgery RAMS and MH
ISAPS associated member
IPRAS associated memmber
AUA (American Urological Association) - active member
Erzolzoda Usmonali
30.07.2020
I thank Ruben Tatevosovich that he, as they say, gave me a second life. May Allah give you health and success. I had hepospodia stem form in 2013, I had an operation, I am married and I have two children. Low bow to you.
Valery
26.03.2020
I had a circular blepharoplasty two years ago. On a score of 4, I would say: the eyelid above the right eye has become asymmetrical in relation to the left. I arrived (03/26/2020) to your consultation in order to find out your professional opinion on this matter. You, alas, could not admit your not very professional work and said: I do not see any asymmetry (((. 5 plastic surgeons before this consultation recommended me a second operation to eliminate the resulting asymmetry of the eyelids. Maybe you were scared that I would ask for a discount on a new operation? No! No more foot to you!
Nika
24.10.2015
I am very grateful to Ruben Tatevosovich for his high professionalism, understanding and perfectly performed tasks. Ruben Tatevosovich is a wonderful surgeon! Now I am not afraid to do subsequent plastic surgery, knowing how competently and correctly Ruben Tatevosovich treats his work.
Alexei
07.09.2015
Many thanks to the head of the plastic surgery clinic, Professor Ruben Tatevosovich Adamyan, and the plastic surgeon Fyodor Yanovich Kraskovsky for their high-class work and attention. I am very pleased with the result. I underwent plastic surgery of the gastrocnemius muscle. The hospital has created very comfortable conditions for patients. Thanks to all the medical staff!
Irina
01.06.2015
An excellent surgeon and a wonderful person! I underwent a circular blepharoplasty, the result is excellent! Thank you so much!