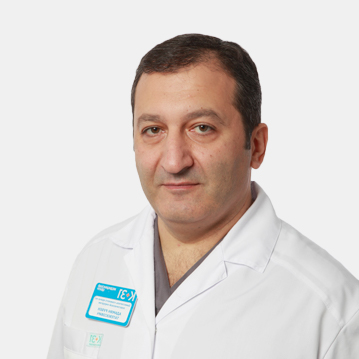 Adamyan Ruben Tatevosovich
Deputy Chief Physician for Plastic Surgery, Plastic Surgeon
Work experience:

36 years

Academic degree:

Professor

Medical category:

Врач высшей категории

Reception at:

ул. Лобачевского, дом 42, стр.4
Make an appointment
Main information
Directions
Reviews
Education:
1979 - 1981, Yerevan Medical Institute (ERMI)
1979 - 1985, I MMI named after I.M.Sechenova - medical business
1985 - 1986, Kirov MSCh. 20 party congress - internship for general surgeons.
Area of professional interests:
Plastic surgery
Reconstructive Microsurgery
Tissue engineering
Aesthetic and reconstructive urology
Andrology and Genital Surgery
Foreign internships:
Savonna (Italy) Hand Surgery (Professor Mantero)
Paris (France) plastic surgery (Professor Marshak)
Virginia (USA) plastic surgery (Professor Gilbert)
Stuttgart (Germany) plastic surgery (Professor Gubisch)
Bon (Germany) plastic surgery (Professor Richter)
Munich (Germany) plastic surgery (professor Feller)
Scientific activity:
Author of over 400 articles on plastic and reconstructive microsurgery
Co-author of 3 monographs
18 Patents of the Russian Federation for authoring in plastic and reconstructive surgery
Scientific adviser 12 dissertations
Professional achievements and recognition:
Permanent participant in Russian and Foreign forums and congresses, as chairman of sections, speaker.
Professional associations:
OPREH (Russian Society of Plastic Reconstructive and Aesthetic Surgeons)
Association of Surgeons named after N.I. Pirogova
AAREH (Armenian Association of Plastic Reconstructive and Aesthetic Surgeons) - Honorary Member
The Annals of Plastic Reconstructive and Aesthetic Surgery Magazine - Scientific Secretary
Journal of Andrology and Genital Surgery - Member of the Editorial Board
PAAR (Professional Association of Andrologists of Russia)
Problem Commission for Microsurgery of the Scientific Council for Surgery RAMS and MH
ISAPS associated member
IPRAS associated memmber
AUA (American Urological Association) - active member