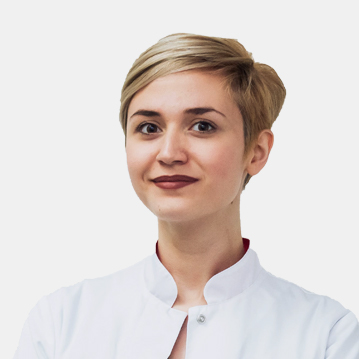 Khasanova Eleanor Rinatovna
Ophthalmologist, Laser Surgeon
Work experience:

4 years

Reception at:

ул. Лобачевского, дом 42, стр.4
Make an appointment
Main information
Directions
Reviews
Education:
2011-2017 - The First Moscow State Medical University. THEM. Sechenov (Sechenov University), Faculty of Medicine.
2017 - 2019 - Residency at the Scientific Research Institute of Eye Diseases
Professional skills and possession of unique techniques:
Comprehensive examination of patients with refractive errors (myopia, hyperopia, astigmatism), correction of all types of ametropia, diagnosis and treatment of infectious and allergic eye diseases, dry eye syndrome, early diagnosis and conservative treatment of glaucoma, age-related macular degeneration, diabetic retinopathy and other types of vascular pathology fundus, ambulatory manipulations (lacrimal lavage, removal of foreign bodies from the conjunctiva and cornea, etc.), hardware methods for examining the organ of vision (computer perimetry, keratotopography, pachymetry, OCT, ultrasound, etc.), laser surgery of the retina. Subconjunctival, parabulbar injections.
Professional development and achievements:
A regular participant in ophthalmic conferences