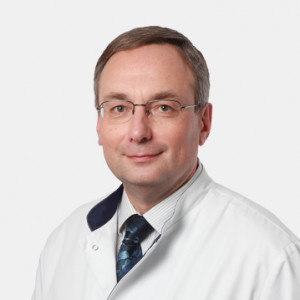 Fedorov Eugene Dmitrievich
Chief Consultant for Endoscopy, Endoscopist Surgeon
Degree:
Doctor of Sciences, PhD, professor
Holds reception in branches:
K+31 on Lobachevskogo
| st. Lobachevskogo, 42/4
Treatment Profile
Esophagoscopy, incl. oral endoscopic myotomy (POEM) and removal of tumors by tunnel access since 2012.
Gastroduodenoscopy, incl. stopping gastrointestinal bleeding since 1982; early diagnosis and removal of polyps, early cancer by endoscopic mucosal resection (ERSO) with submucosal dissection since 2006;
Endoscopic surgery of the biliary tract and pancreas, incl. ERCP, EPST since 1982, duct stenting since 1987.
Enteroscopy diagnostic and therapeutic. including video capsule since 2003, balloon-assisted since 2007
Colonoscopy, incl. early diagnosis and removal of polyps and early cancer by ERSO with dissection since 2009.
Elective and emergency laparoscopic surgery, incl. laparoscopic cholecystectomy since 1992, appendectomy since 1993.