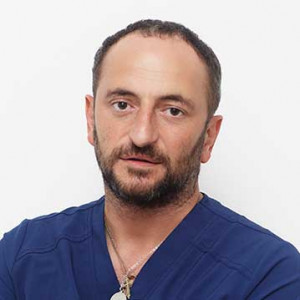 Zakharyan Norayr Grairovich
Head of the clinic of traumatology-orthopedics, traumatologist-orthopedist
Department:
Orthopedics and traumatology
Holds reception in branches:
K+31 on Lobachevskogo
| st. Lobachevskogo, 42/4
Treatment Profile
Performs more than 600 orthopedic surgeries per year.
Specialization: primary and revision arthroplasty of the hip and knee joints, complex cases of primary arthroplasty of large joints.
Arthroscopic interventions on the knee, hip, ankle and elbow joints.
Reconstructive operations on the feet.
Osteosynthesis of fractures, treatment of defects and deformities of long tubular bones.
Yesterday I was at the regular examination at Norayr Hrayrovich. Exactly 6 years have passed since the operation. Congenital dislocation of the hip joint, shortening of 7 cm, recently - the inability to overcome even 100 meters. A lucky chance brought me to a wizard, I can't find another word. God save you, dear doctor.

An excellent specialist and person! In 2019, I was lucky enough to get into his hands for a knee replacement. The case was difficult. I went to the doctors for a long time, but everyone looked at me dubiously. Norayr Hrayrovich at the reception simply said "I'll take you" And now I walk without pain for almost a year. Thank you so much!

Write a review