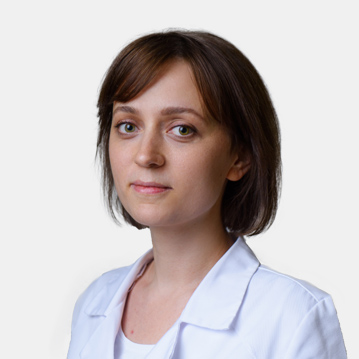 Melitmayer Tatyana Valeryevna
Neurologist
Work experience:

13 years

Reception at:

ул. Лобачевского, дом 42, стр. 4
Make an appointment
Main information
Directions
Reviews
Education:
2009 - Astrakhan State Medical Academy. Medical business.
2010 - Astrakhan State Medical Academy. Internship in Neurology
2016 - Institute of Neurology RAMS. Certification cycle.
Area of professional interests:
health programs for people subject to great mental and emotional stress;
rehabilitation of patients after traumatic brain injury;
selection of a course of treatment for patients with impaired cognitive function, Alzheimer's disease and Parkinson's.
programs for the comprehensive treatment of back pain paravertebral therapeutic blockade
programs for the prevention and treatment of headaches: migraine, tension headache, vegetovascular dystonia, asthenia, depressive disorders, sleep disturbances, memory, chronic fatigue syndrome;
interpretation of craniograms, spondylograms, CT and MRI
neurological management
management and rehabilitation of patients after acute cerebrovascular accident
Natalia
25.09.2021
Tatyana Valerievna treated my mother to L.S. Solovyova. in the hospital. We were hospitalized on 08/23/2021 with neurological complications after undergoing covid. His condition was very poor. Thanks to the efforts of Tatyana Valerievna, her attention, patience, desire to understand everything in detail and knowledge, it was possible to establish the causes of health problems, and my mother was able to get on her feet, began to return to normal life. Many thanks to Tatyana Valerievna! She is smart, beautiful and a wonderful person! I also want to thank all the staff of the clinic who helped my mother - nurses and nurses of the hospital, rehabilitation specialists, as well as many thanks to the wonderful nurse Olga Gudenko, who took great care of my mother in the ward.
Natalia Kuzmina
16.02.2020
My husband was admitted to the hospital on December 24, 2018 in a very serious condition, as it turned out later, during a huge number of tests and procedures, he was diagnosed with one of the rarest diseases, which belongs to the group of rare orphan diseases that are very expensive to treat. One case per million population. I want to express my deep gratitude to Tatyana Valerievna. Thanks to her curiosity, knowledge, practice, the husband was able to recover. Low bow to you. Glorify the title of doctor further! With great respect to you! Kalitkin