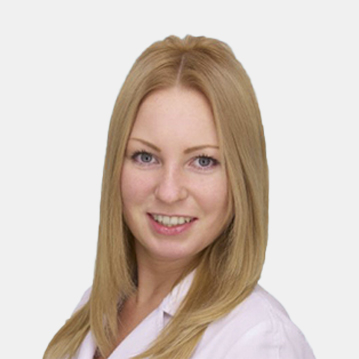 Cherepenina Anna Victorovna
Neurologist
Work experience:

17 years

Medical category:

Врач первой категории

Reception at:

1-й Колобовский пер. дом 4
Make an appointment
Main information
Directions
Reviews
Education:
2005, Moscow Medical Academy (First Moscow State Medical University) named after IM Sechenov, specializing in medical business.
2007, Clinic of Nervous Diseases named after A. Ya. Kozhevnikov, MMA named after I. M. Sechenov, residency in the specialty "Nervous Diseases".
Further education courses:
2012, Peoples' Friendship University of Russia, Neurology.
2014, Russian National Research Medical University named after N.I. Pirogova, functional diagnostics.
2019, Russian Medical Academy of Continuing Professional Education, neurology.
Experience:
2007 - 2010, Russian-Israeli Medical Center "RAMBAM", neurologist.
2010 - 2020, SSMC clinic "Family", neurologist, functional diagnostician.
Professional skills:
Treatment:
pain syndromes of various etiology and localization,
cerebrovascular disease,
neurodegenerative diseases
neurological disorders in somatic diseases,
astheno-neurotic syndrome,
panic attack syndrome
chronic fatigue syndrome
sleep disorders.
Diagnosis and treatment of all types of headache, dizziness of various origins.
Diagnosis and treatment:
vertebral diseases
diseases of the peripheral nervous system,
radiculopathy.
Possession of unique techniques:
All types of therapeutic blockades (paravertebral, periarticular, nerve block, blockage of trigger points, piriformis muscle, etc.).
Vestibular (otoneurological) examination.
Shock wave therapy.
PRP therapy.
Kinesiotherapy.
Removing and decoding EEG data.
Neuropsychological testing.
Irina
05.06.2021
They beat at Anna Viktorovna's reception on the recommendation. An attentive, friendly doctor. My daughter has lost her sense of smell after Covid-19 for 9 months. The doctor prescribed treatment, although it is clear that there are not yet 100% of the protocols. The disease is new. I will unsubscribe based on the results of the treatment.