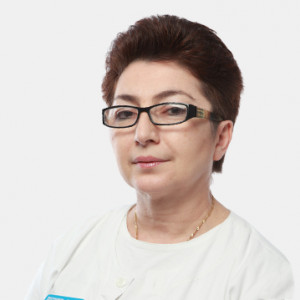 Kappusheva Laura Magomedovna
Deputy chief doctor in gynecology, obstetrician-gynecologist
Заслуженный врач РФ, врач высшей категории
Degree:
Doctor of Sciences, PhD, professor
Holds reception in branches:
K+31 on Lobachevskogo
| st. Lobachevskogo, 42/4
K+31 Petrovskie Vorota
| 1st Kolobovsky lane, 4
Treatment Profile
Engaged in the diagnosis and treatment of diseases and pathologies of the female reproductive system.
Works with benign tumors of the uterus and ovaries, candidiasis, cervical erosion, STDs, inflammatory diseases, infertility, etc. Advises on the selection of contraceptives.

I am infinitely grateful and grateful to Laura Magomedovna for her PROFESSIONALISM, CAREFUL, SENSITIVE ATTITUDE. An amazing doctor and an amazing person, this miniature woman with a strong and decisive character, with a wonderful sense of humor. I am 85 years old, I suffered two heart attacks, so other Moscow clinics refused to help me. Laura Magomedovna confidently tackled the problem, helped cope with anxiety, prepare for surgery, and consult with the necessary specialists. The operation was successful and after 3 days I went home. During the entire stay in the hospital, she was under constant supervision of all specialists in the department. I would like to note their friendliness, professional competence, caring, and patience. Thanks a lot

I would like to express my deep gratitude for the high professionalism and sensitive maternal attitude of the entire team of Laura Magomedovna Kappusheva! She personally, as an infinitely talented person! Svetlana Ochirovna, attending physician, for your attention and care! Nurses, especially Margarita, for your boundless patience and willingness to always come to the rescue!

Kappusheva L.M. - a doctor from God! I cannot express how happy I am with the result of the operation. In 2021, an operation was performed to remove the uterine septum.
This is an absolutely cosmic personality in our medicine. Saved me from a problem that lasted decades. Very professional. Operated in half an hour. The next day I went home
26.12.2022
Shafikova Indira
In early December, I had an operation to remove ovarian cysts. I want to express my gratitude to my wonderful doctors - Laura Magomedovna Kappusheva, Zara Salmanovna Ozdoeva, Zarema Almanovna Ibragimova, the anesthesiologist-resuscitator Dmiry Igorevich Gaevsky and all the medical staff of the clinic for their professionalism and friendly attitude towards patients. I was also pleasantly surprised when the manager Olga contacted me 2 weeks before the operation, reminded me about the tests and answered my questions. I was very scared, but everything went well and I recovered quickly. Thanks a lot again! There are excellent doctors, good equipment and human attitude! I don't have any negative memories of being treated at K+31.

Review about Laura Magomedovna. Just a Doctor from the Almighty! When Laura Magomedovna enters the operating room, all the excitement passes in a second - you understand that you are in good hands! Thank you
I express my deep gratitude to the surgeon of the Department of Gynecology Laura Magomedovna Kappusheva. Huge to you, Laura Magomedovna, THANK YOU for the highest professionalism, sensitive and attentive attitude towards patients! Even before meeting the doctor, I heard that the doctor has "golden hands", that he performs super-complex operations, that the doctor immediately disposes to himself, is very friendly, positive and pleasant in communication. And indeed it is! All my expectations were met! After a consultation with the doctor, I gained confidence in the success of the operation, I came out calm and optimistic. The operation went well. The doctor came regularly, was interested in well-being, gave recommendations, was always calm, cheerful and in a good mood. It was felt that the doctor takes his duties very responsibly and worries about his patients with all his heart. While I was in the clinic, I was once again convinced that Laura Magomedovna is a caring, attentive and qualified specialist. Dear Laura Magomedovna, I wish you all good health, happiness, pleasant events, wonderful mood! Thank you!

Write a review