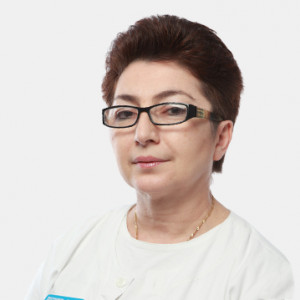 Kappusheva Laura Magomedovna
Deputy chief doctor in gynecology, obstetrician-gynecologist
Department:
Gynecology, Surgery
Заслуженный врач РФ, врач высшей категории
Degree:
Doctor of Sciences, PhD, professor
Holds reception in branches:
K+31 on Lobachevskogo
| st. Lobachevskogo, 42/4
Treatment Profile
Engaged in the diagnosis and treatment of diseases and pathologies of the female reproductive system.
Works with benign tumors of the uterus and ovaries, candidiasis, cervical erosion, STDs, inflammatory diseases, infertility, etc. Advises on the selection of contraceptives.

Kappusheva L.M. - a doctor from God! I cannot express how happy I am with the result of the operation. In 2021, an operation was performed to remove the uterine septum.
This is an absolutely cosmic personality in our medicine. Saved me from a problem that lasted decades. Very professional. Operated in half an hour. The next day I went home
26.12.2022
Shafikova Indira
In early December, I had an operation to remove ovarian cysts. I want to express my gratitude to my wonderful doctors - Laura Magomedovna Kappusheva, Zara Salmanovna Ozdoeva, Zarema Almanovna Ibragimova, the anesthesiologist-resuscitator Dmiry Igorevich Gaevsky and all the medical staff of the clinic for their professionalism and friendly attitude towards patients. I was also pleasantly surprised when the manager Olga contacted me 2 weeks before the operation, reminded me about the tests and answered my questions. I was very scared, but everything went well and I recovered quickly. Thanks a lot again! There are excellent doctors, good equipment and human attitude! I don't have any negative memories of being treated at K+31.

Review about Laura Magomedovna. Just a Doctor from the Almighty! When Laura Magomedovna enters the operating room, all the excitement passes in a second - you understand that you are in good hands! Thank you
I express my deep gratitude to the surgeon of the Department of Gynecology Laura Magomedovna Kappusheva. Huge to you, Laura Magomedovna, THANK YOU for the highest professionalism, sensitive and attentive attitude towards patients! Even before meeting the doctor, I heard that the doctor has "golden hands", that he performs super-complex operations, that the doctor immediately disposes to himself, is very friendly, positive and pleasant in communication. And indeed it is! All my expectations were met! After a consultation with the doctor, I gained confidence in the success of the operation, I came out calm and optimistic. The operation went well. The doctor came regularly, was interested in well-being, gave recommendations, was always calm, cheerful and in a good mood. It was felt that the doctor takes his duties very responsibly and worries about his patients with all his heart. While I was in the clinic, I was once again convinced that Laura Magomedovna is a caring, attentive and qualified specialist. Dear Laura Magomedovna, I wish you all good health, happiness, pleasant events, wonderful mood! Thank you!

Good day! I want to express my deep gratitude to Laura Magomedovna and the team of doctors working with her. On December 17, 2021, Laura Magomedovna had an operation - many thanks to her for keeping the ovary (there was a 12 cm cyst). Skillful fingers!!! Thanks to the anesthesiologist, nurses, all medical staff! All health! The rooms are comfortable, the treatment is very comfortable.

I would like to express my gratitude to Laura Magomedovna, Svetlana Ochirovna and all the staff of the K + 31 clinic for the help provided. I am 26 years old, for quite a long time I was diagnosed with endometriosis, there was an endometrioid cyst that needed to be removed, but I did not dare to have an operation. The cyst was difficult to position, all other doctors said that there is a risk of removing the tube and ovary along with the cyst. But Laura Magomedovna is a surgeon from God! I trusted her from the first minutes of our acquaintance, she dispelled all my fears. After an emergency hospitalization with severe pain, on the same day, I underwent an operation (laparoscopy) to remove the cyst, no other organs were affected - the tube and ovary were in place. It is now the fifth day after the operation and I feel much better. Laura Magomedovna and Svetlana Ochirovna are very understanding and caring doctors, they answered all my questions, worried and checked my health. All the staff of the clinic with whom I contacted were very helpful and kind at home, everyone tried to help me recover from the operation. I lay in a single room, it was very comfortable, the rooms are equipped with everything you need - from slippers to hygiene kits. Thank you to K + 31 for your health and support in a difficult postoperative period ❤️

I was operated on by Laura Magomedovna back in 2001 for uterine fibroids. All doctors predicted the removal of the uterus. Miraculously I got to Kapusheva Laura Magomedovna. After the operation, two years later, she gave birth to a son, this year he will be eighteen years old. From the bottom of my heart I thank the doctor, the doctor from God !!! I wish you health and prosperity !!!!

I sincerely express my gratitude to Laura Magomedovna Kappusheva for her professionalism, sensitive, attentive attitude and dedication to her beloved work. It is a great happiness that there are such talented doctors as Laura Magomedovna. I wish you health, happiness, success in your difficult, but useful and noble work! Best regards, Elena Kolmakova

Good evening! I was in the K-31 clinic from January 31 to February 3. I had a very difficult operation. I want to express my deep gratitude, admiration to all the hospital staff, all nurses, maids, and special thanks to the woman who delivered the food. About the conditions in the clinic separately. This is a five-star hotel, where they still treat professionally. And now about the doctors. My attending physician Svetlana Ocharovna Ocharova, who helped the surgeon Alexey Sergeevich Shevchuk during the operation. Thank you for talking with me before the operation, thank you for your life. Anesthesiologist Volkov Denis, well, this is just a positive depressant doctor, many thanks to him, thanks to all resuscitation doctors. Believe me, the first time after the operation to be in intensive care, well, scary is not the right word, but thanks to the doctors you feel completely safe. Head of the gynecological department, Laura Magomedovna Kappusheva, I bow to you. Doctor from God. I am at home and now I will only go to this clinic. Yes, this is a lot of money, but believe me, money can always be earned, and health is our life. After all, this is not a tooth that is sick. And the K-31 clinic has everything you need when it comes to your own life.

Write a review