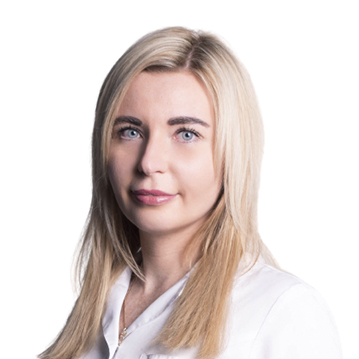 Polozova Natalya Mikhailovna
Dentist
Work experience:

19 years

Reception at:

ул. Лобачевского, дом 42, стр. 4
Make an appointment
Main information
Directions
Reviews
EDUCATION
1999 - 2004 - graduated from the Moscow State University of Medicine and Dentistry.
2004 - 2006 - finished her residency in general practice at the "Maxillofacial Hospital for War Veterans".
TRAINING COURSES
2005 - "Fundamentals of aesthetic restoration of anterior and posterior teeth", Medi, St. Petersburg.
2005 - "Fundamentals of Endodontics" (all modern rotary systems), Medi, St. Petersburg.
2006 - "Modern fiber adhesive systems in the complex treatment of periodontal diseases and aesthetic correction of teeth", Medi, St. Petersburg.
2007 - "Restoration of the anatomical shape of the anterior and lateral groups of teeth" (author's course of Vetchinkin), St. Petersburg.
2007 - "Clinical features of the use of restoration materials of the company 3M", Amfodent, St. Petersburg.
2007 - "Modern solutions in aesthetic restoration with Kerr materials", Amfodent.
2007 - "Rotary technologies - a new step in modern endodontics", Amfodent.
2007 - "Restorative therapy with Densply materials" (60 hours), "Endodontics training with the Densply system" (12 hours), Training Center of Apolloniy Sergey Radlinsky, Poltava.
2008 - "Determination and reconstruction of color in aesthetic dentistry", Vetchinkin training center.
2009 - Zniis endodontics, VDW company.
2010 - "Aesthetic and functional dental restoration", TBI.
2010 - "Fundamentals of Classical Gnathology", Vetchinkin Training Center.
2011 - therapeutic dentistry at the RUDN University.
2016 - "Demonstration of clinical cases in radiation diagnostics", Center "Picasso".
EXPERIENCE
2004 - 2006 - worked in CJSC "MEDSI" as a dentist-therapist.
2006 - 2012 - Worked at LLC "New Polyclinic".
2012 - present - works at Dentistry "Image" LLC.
PROFESSIONAL SKILLS
Modern methods of prevention, diagnosis and treatment of simple and complex forms of caries.
Innovative technologies in aesthetic dentistry, restoration of the anatomical shape of teeth.
Various methods of treatment of pulpitis and periodontitis in dentistry.
All types of endodontic work, modern canal treatment with hand and machine tools (Protaper, MTWO).
Filling canals with gutta-percha, lateral condensation method, thermophile system, guttakor.
Prof. hygiene, prevention of dental caries.
Ilya
08.02.2021
I would like to thank Natalia Mikhailovna and her assistant for their professional approach and attitude towards the case and patients! Recommend!
Sergei
02.03.2020
LETTER OF THANKS I express my gratitude to the dentist Natalya Mikhailovna Polozova for professionalism, moral and psychological support, emotional attitude, application of modern methods of treatment. I wish you health and success in your difficult and noble work. Thank you, DOCTOR! Best regards S.V. Shabaev. 03/02/2020.
Antonina
26.02.2020
Many thanks to the dentist-therapist Natalya Mikhailovna Polozova for the attentiveness, sensitivity, professional approach using modern technologies, which makes people beautiful. Natalia Mikhailovna is a beautiful, competent and talented specialist with high psychological abilities and a jewelry master. For the first time I came across such an understanding of the patient, attentiveness and care, which, combined with high professionalism and precision in work, gives amazing results and a smile of patients. I am very grateful to her for a decent high-quality treatment, for her Golden Hands, patience, loyalty to her work and excellence of the highest level in the field of dentistry.
Boris
10.02.2020
I'm going like a holiday!
Anna
02.02.2020
Awesome doctor! Thank you for your professional and responsible approach to your business.
Salimat
21.12.2019
Visits to the dentist can be pleasant if the doctor is N.M. Polozova. She is very attentive and competent. Natalya Mikhailovna, thank you! PS. Caution! The doctor has too beautiful eyes!))
Valentine
02.09.2019
My favorite doctor not only among dentists, but among all directions. This rarely happens for dentists to be favorites, but Natalya Mikhailovna - May love) Sensitivity, professionalism, competence and golden hands!