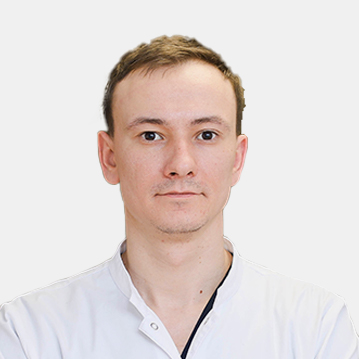 Critor Alexander Sergeyevich
Surgeon, maxillofacial surgeon
Work experience:

8 years

Academic degree:

PhD

Reception at:

ул. Лобачевского, дом 42, стр.4
Make an appointment
Main information
Directions
Reviews
Education:
Ivanovo State Medical Academy, graduation 2012
Internship in General Surgery at the Ivanovo State Medical Academy, Ivanovo, 2012 - 2013.
Residency in Oral and Maxillofacial Surgery RMAPO, TsNIIS and ChLH, Moscow 2014 - 2016.
Postgraduate study on the basis of Central Research Institute of Scientific Research and the ChLH, Moscow 2016 - 2019.
Further education courses:
Improvement in microsurgery on the basis of MGMU them. Sechenov, Moscow, 2017
Professional skills:

A full range of outpatient general surgical care
Surgery under local anesthesia of varying complexity
Conducting emergency surgery of the abdominal organs by laparotomy
Reconstructive and plastic surgery in the maxillofacial region
Facial Skeleton Fracture Surgery
Removal of neoplasms of soft tissues and bones of the maxillofacial region
Salivary Therapy and Surgery
I have long wanted to leave a review about Alexander Sergeev
ich, but all hands did not reach, as they say. We strive to write negative reviews as soon as possible, but positive ones, unfortunately, are often lost in the hustle and bustle of everyday life. But today I really want to finally restore justice and write a review about a wonderful person, a doctor with a capital letter. Alexander Sergeevich is a magician! This is not an exaggeration. We all know that a child's illness is the worst thing for parents. My son is a professional athlete. During training, a tennis ball hit him behind the ear, the lymph node was damaged. A few hours after the injury, the node became inflamed so that there was a feeling that the son had a second head. We were in three hospitals, including the Research Institute of Maxillofacial Surgery. An exact diagnosis was not made anywhere, and treatment could not be prescribed. It got to the point that they were sent to urgently operate. With some inner instinct, she did not put her son on the operation, she began to look for a maxillofacial surgeon. Absolutely by chance they got to Alexander Sergeevich. And he healed! No operations and other complications. Two weeks later, the son returned to training. This doctor became the only specialist who diagnosed and cured !!! After that, they turned to the doctor again, but with another problem. Leaving the doctor's office, the son said: "He is a magician" :). Now, when health problems arise that are not related to surgery, we always regret that this doctor only accepts on issues of surgery :) there would be more such miraculous doctors. May God grant health to this wonderful specialist and person! Many thanks for the work the doctor does every day!
deploy...
Julia / 08.05.2020
I turned to Alexander Sergeevich as a second specialist afte
r stitching in the neck. The doctor is very pleasant as a person and showed high professionalism. They examined the suture area (I was very worried, because I am 22 and the place is very noticeable) and offered additional ointments for better healing. After that, she applied again to improve the appearance of the scar (the choice of a specialist was no longer standing). Thanks to the injections, everything looks better. An excellent clinic and an excellent specialist, I will recommend it. Thank!)
deploy...
Anna / 24.02.2020