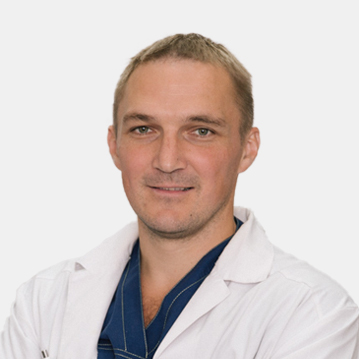 Volkov Pavel Alexandrovich
Head of Osteopathy Clinic, osteopath
Work experience:

15 years

Academic degree:

PhD

Reception at:

ул. Лобачевского, дом 42, стр. 4
Make an appointment
Main information
Directions
Reviews
Education:
Military Medical Academy. CM. Kirova (St. Petersburg) - graduated in 2005 with honors and a gold medal.
Military Medical Academy. CM. Kirova (St. Petersburg) - internship "General practitioner", 2006
SPb MAPO - advanced training qualifications "Neurology", "Manual therapy" 2006
SPb MAPO - residency "Anesthesiology-resuscitation", 2009
First Medical University. THEM. Sechenova of the Ministry of Health of Russia (Sechenovskiy University) - graduate school, defense of the dissertation, 2017
Center for Advanced Studies and Primary Retraining (Moscow) - primary retraining Osteopathy, 2017
Further education courses :
Institute of Osteopathy (St. Petersburg State Medical Academy named after II Mechnikov) - "Structural osteopathy", "Craniosacral osteopathy".
D. Tal School of Perceptual Osteopathy - "Perceptual Osteopathy".
Experience:
2000-2006 - Center for Traditional Medicine Dr. A.V. Mukhonko (St. Petersburg) chiropractor, massage therapist.
2009-2011 - Research Institute N.V. Sklifosovsky, intensive care unit for neurosurgical patients.
2011-2017 - JSC "Clinic K + 31", anesthetist-resuscitator.
Since 2016 - Avicenna Medical Center, an osteopathic doctor.
Since 2016 - Lecturer at the Center for Advanced Studies and Professional Retraining, courses in the specialties: Anesthesiology-Resuscitation; "General medical practice."
Professional skills and possession of unique techniques:
Techniques for structural and craniosacral osteopathy, a variety of methods of perceptual work with the body.

Professional development and achievements:
Since 2009, participation in research programs of the Research Institute named after N.V. Sklifosovsky. Area of interest - septic shock in neurosurgical patients. Report at the 24th Annual Congress of the Society of Specialists in the Field of Intensive Care in Berlin (ESICM LIVES 2011). 2012-2015 organized and conducted a scientific study on the features of analgesic protection during laparoscopic surgery. As part of the study, the study of multimodal analgesia, the impact of changes in the autonomic nervous system on intraoperative indicators of central hemodynamics. The study became the basis for writing a dissertation.
The author and co-author of more than 30 scientific papers, has publications in domestic and foreign publications, reports at international conferences. Author and co-author of translations into Russian of fundamental medical manuals.
Currently, he takes an active part in the scientific program for the study and implementation of the method of synergistic analysis in medicine. This is a promising direction, it involves an integrated assessment of the functional state of the body and is at the junction of several scientific specialties at once: quantum physics, osteopathy and anesthesiology-resuscitation.
Anatoly
21.02.2022
God's Specialist. Only this person could help me
Tatyana
05.11.2019
I sincerely thank the doctor-osteopath Volkov Pavel Alexandrovich! This is the only specialist who was able to save me from perennial ailments! With all my heart I would like to wish: health, favorable changes, active and fruitful work, new ideas, wide opportunities and prospects! May you always be lucky and success! Low bow from all my family!
Sizorina Olga
24.12.2013
Dear Pavel Alexandrovich! I never thought that anesthesia could be like a normal sound sleep. After waking up, I did not feel any headache, weakness, or dizziness! Thanks you!
Irina
21.12.2013
Thank you very much for your work!