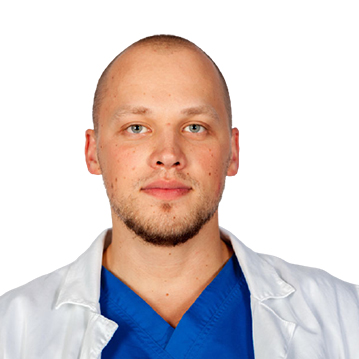 Zuev Evgeny Vladimirovich
Anesthesiologist-resuscitator
Work experience:

5 years

Reception at:

ул. Оршанская, д. 16, стр. 2
Make an appointment
Main information
Directions
Reviews
EDUCATION
2014 - Perm State Medical University named after academician E.A. Wagner, Faculty of General Medicine.
2017 - residency at the Federal State Budgetary Institution NMHTs named after N.I. Pirogov.
REFRESHER COURSES
2016 - certificate of completion of the courses Basic (BLS) and extended (ALS) resuscitation, the European Council for Resuscitation on the basis of the National Council for Resuscitation.
2017 - ICH GCP certificate for Clinical Research.
2020 - certificate of Heidelberg University Hospital - "Lung protective ventilation WorkShop".
PROFESSIONAL SKILLS
Clinical skills:
Performing general multicomponent anesthesia in all variants and combinations.
Performing spinal, epidural anesthesia and their combinations.
Performing regional anesthesia including working with an ultrasound machine.
Renal replacement therapy.
Nutritional support.
Intensive care for patients of any profile.
FAST ultrasound protocols and other work with an ultrasound machine including puncture and catheterization of blood vessels, etc.
Scientific and practical skills:
Clinical study design preparation.
Preparation of documents for the local ethics committee.
Creation and maintenance of scientific documentation.
Statistical data analysis.
Writing scientific articles.
Presentations at conferences.
PROFESSIONAL DEVELOPMENT
Scientific publications:
Etiotropic therapy for COVID-19: a critical analysis and perspective. General resuscitation. 2020;16(6):65-90. https://doi.org/10.15360/1813-9779-2020-4-0-1.
KNOWLEDGE OF FOREIGN LANGUAGES
Tatiana Zaitseva
15.10.2021
On October 13, my mother underwent an operation, many thanks to Dr. Mikhail Cherepenin and Evgeny Zuev for their professionalism and excellent work.