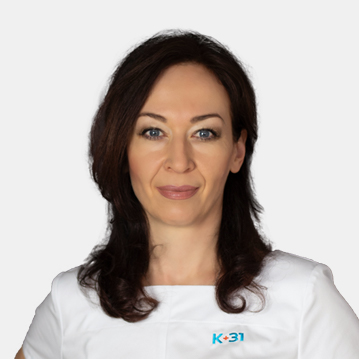 Zavyalova Natalya Garrievna
Dentist orthodontist
Work experience:

28 years

Reception at:

ул. Лобачевского, дом 42, стр. 4
Make an appointment
Main information
Directions
Reviews
In 1994, she graduated with honors from the Moscow Medical Dental Institute. Semashko (MGMSU named after A.I. Evdokimov). From 1994 to 1996 She was trained in residency at the Department of Orthodontics and Pediatric Prosthetics, at the end of the residency until 2003, she held the position of senior laboratory assistant, then assistant chair.
At the same time, she worked at Quintessence International Publishing House as a translator of dental scientific literature and congress reports. After studying the methods of manufacturing set-up, aligners for aligning teeth, positioners for bite correction in the clinic prof. In 2000, Hinza (Germany) defended her thesis for the title of candidate of medical sciences on the topic "Use of elastopositioners for the treatment of dentofacial anomalies".
In 2002, she received a grant from the German Society for Academic Exchange for a six-month internship at the Ludwig-Maximilian University (Munich, Germany), within the framework of which she mastered the method of working with lingual braces of the Hiro system and received a certificate for working with Invisalign
In 2007, Dr. Wichmann held a two-year master course on the Incognito lingual braces system, in 2011 she received a certificate for working with WIN braces
Orthodontist of the highest category, member of VET, WFO, ESLO, a regular participant in international congresses held by professional orthodontic societies.
Repeatedly acted as a listener of the courses on orthodontics conducted by world famous speakers, and as a lecturer. As part of continuing education, she studied at leading clinics and at departments of universities in Germany, Austria, and France.
Since 2001 - orthodontist at the German Dental Center
Since 2015 - orthodontist at K + 31

During the work, more than 2,000 patients were successfully treated with the use of removable plate devices, various system eliners, lingual and vestibular braces. Specialization in comprehensive patient rehabilitation plans.