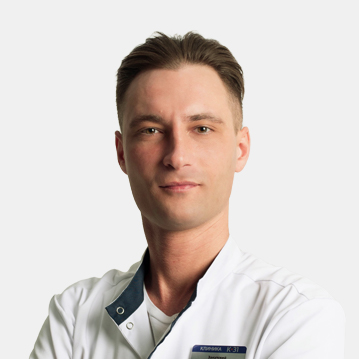 Zakutsky Timur Olegovych
Dentist Therapist
Work experience:

9 years

Reception at:

ул. Лобачевского, дом 42, стр.4
Make an appointment
Main information
Directions
Reviews
Education:
In 2010, he graduated from the Voronezh State Medical Academy. N. N. Burdenko. Specialty "Dentistry"
In 2011, he graduated from the internship at the Department of General Dentistry at VGMA named after N. N. Burdenko. Specialty "General practice dentistry"
In 2013, he underwent professional retraining at the Department of Therapeutic Dentistry of Moscow State Medical University named after A.I. Evdokimova. Specialty "therapeutic dentistry"
Further education courses:
2017 Course "Restoring the anatomical shape of the anterior and lateral teeth in aesthetic restorations." Aesthetic Dentistry Studio of Anton Vetchinkin "AVS School". Lecturer: Anton Vetchinkin.
2016 Course "Everything ingenious is simple. A simple look at aesthetics in dentistry. Restoration of teeth of the frontal group. " 3M company. Lecturer: Valentina Kondratieva.
2016 Seminar "Instrumentation and obturation of root canals. Technical aspects of endodontics. " ElenDent Training Center. Lecturer: Michael Elendo.
2016 Seminar "Restoration of chewing teeth." Company Medical Consulting Group. Lecturer: Victor Shcherbakov.
2016 XII International Endodontic Congress VDW GmbH "Revolutionary Technologies in Endodontic Treatment". Organizers: VDW GmbH, Pharmgeocom; TSNIIS.
2016 Course "The World of Microscopic Dentistry. Immersion in a new reality. " Company Medical Consulting Group. Lecturer: Elena Lipatova.
2016 Seminar "Ceramic Restorations. From planning to fixing. " Lecturer: Artyom Oleksik.
2016 Seminar "Restoration of anterior teeth". Company Medical Consulting Group. Lecturer: Victor Shcherbakov.
2016 Seminar "Restoration of the contact point." Lecturer: Pavel Paula.
2016 Workshop "Projected Direct Restoration." Lecturer: Kaplan Sheujen.
2016 Seminar "Modern aspects of direct restoration. Adhesive Protocols. Karyology. " Lecturer: Igor Kainov.
2015 "Excellent lightness: a new technique for direct composite restoration with Estelite Asteria". Tokuyama Dental Company. Lecturer: Noboru Takahashi.
2015 International Congress on Endodontics "ENDOPOINT". Organizers: Societa Italiana di Endodonzia, Accademia Italiana Endodonzia, Dental Seminar.
2014 Course "Using Philips ZOOM Professional Systems!" for teeth whitening in clinical and home conditions. Pharmgeocom Company. Lecturer: Elena Vergizaeva.
Olga
25.01.2021
A wonderful and attentive doctor, I go to appointments with pleasure, usually brushing teeth and caries treatment. He healed caries in his wisdom teeth, other doctors refused to take.
Ekaterina B.
24.12.2020
The best dentist I've ever met. It relieves pain not only with an injection but also with positive communication. A professional in his field! It's a pity he doesn't accept the kids
Michael
24.01.2020
Many thanks to the doctor for the excellent work. I made an appointment for the first time based on feedback left by people earlier. I didn't regret it. The doctor enjoys the result of his labor. I wish you success and even more skill.
Alina Gotovchenko
07.11.2019
Not so long ago, a filling fell out, it took about three months without it, probably because I was afraid of dentists since childhood. But I understood that I needed to do something about it, so I made an appointment and got to Timur Olegovich. I did not feel the prick when they were drilling too. If it were not necessary to keep my mouth open, I would have fallen asleep, to such an extent I was comfortable and not painful) As a result, I decided to immediately heal all the teeth and clean them at the same time))) Thank you very much for the quality performance of my work)))
Arina
10.05.2019
Master of his craft. Works smoothly, clearly, quickly and accurately. Everything went painlessly and there was absolutely no discomfort. In addition to a good specialist, Timur Olegovich is also a very pleasant person to talk to, respectfully and calmly told and explained everything in a language accessible to ordinary people.
Arsen
20.02.2019
An excellent doctor, a professional in his field. He does his job very well. It is a pleasure for the patient to be under the patronage of this professional.
Alexander
12.11.2018
The most painless and best dentist visit in all my 32 years! A specialist of the highest level! Thank you so much!
Maria Nagliashvili
25.10.2018
I was at the reception of your specialist, dentist-therapist Timur Olegovich Zakutsky, I wanted to thank and say a huge thank you to him and his assistant for their professionalism, attention, accuracy and courtesy, the procedure was performed at the highest and very professional level. Previously, I used the services of your dentists, but I want to leave gratitude only to Timur Olegovich, I will definitely advise the doctor to friends and relatives. Thanks again.
Svetlana
23.10.2018
I have been using the services of your clinic for more than three years, and one of the reasons why I choose this particular clinic is such doctors-experts in their field as Timur Olegovich Zakutsky. On my recommendation, about 10 of my friends have already approached him and everyone admires his professionalism and the results of treatment, thank you very much
Cherkasov Ivan Valentinovich.
07.09.2018
I would like to sincerely thank the dentist, Timur Olegovich Zakutsky! An excellent specialist with a "light hand" and the highest class of performance of his professional duties! If all dentists worked at this level, going to the "dental" would not cause such excitement in patients.) Thank you, Timur Olegovich!