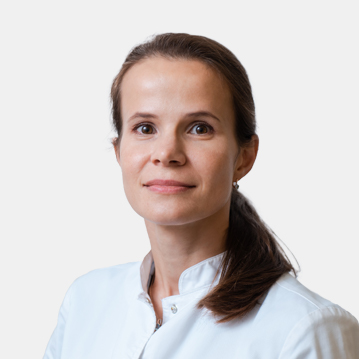 Teplyuk Darya Andreevna
Gastroenterologist
Work experience:

7 years

Reception at:

ул. Лобачевского, дом 42, стр. 4
Make an appointment
Main information
Directions
Reviews
Education:
RSMU of the Federal Agency for Health and Social Development
Research Institute of Nutrition RAMS, clinical residency in the specialty "therapy"
MSMSU, professional retraining in the specialty "gastroenterology"
RNIMU them. N.I. Pirogov, certification course in gastroenterology
Professional skills:
Gastroenterology (diseases of the upper gastrointestinal tract, liver, gall bladder, pancreas, intestines)
Dietology (development of an individual diet for diseases of internal organs; management of patients after gastrectomy, bowel resection)
Professional development and achievements:
Co-author of scientific articles on irritable bowel syndrome, the use of anorectal manometry in clinical practice
7 publications. 1 patent for an invention.
Olga
10.08.2021
The best gastroenterologist I've met in my life. Clever. Literate. Tactful. Daria Andreevna was the first to make the correct diagnosis. She assumed, drew up a survey plan, received laboratory confirmation and prescribed treatment. Everything took less than a day and everything was covered by the insurance. It also seemed important to me that Daria Andreevna was discussing a treatment plan with the patient. We found out why certain pills did not suit me and which diet would suit me best. Thanks. Health to you Daria Andreevna;)
Maria
06.06.2021
Daria Andreevna is an excellent doctor, it is always pleasant to communicate with her. This is a specialist who not only hears, but listens carefully to the patient and, based on the results of the examination, prescribes treatment that really helps. I am glad that I once came to see her and am very grateful for her help.