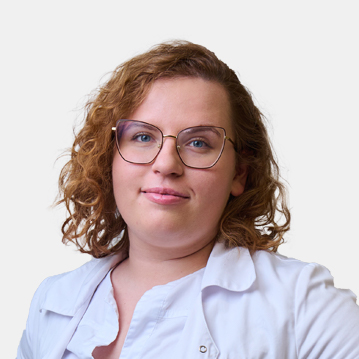 Taruntaeva Anastasia Nikolaevna
Otorhinolaryngologist
Work experience:

6 years

Reception at:

ул. Оршанская, д. 16, стр. 2
Make an appointment
Main information
Directions
Reviews
AT THE RECEPTION
Outpatient reception of ENT patients with acute and chronic ENT pathology.
Reading and interpreting X-ray, CT and MRI images.
Endoscopic examination of ENT organs.
Providing planned and emergency ENT care.
Removal of foreign bodies from the ears, nose, pharynx, larynx.
Lancing of abscesses of various localization (ears, nose, paratonsillar abscess).
Stopping nosebleeds by various methods (including cauterization of the vessel).
Performing repositioning maneuvers in BPPV.
Diagnosis of vertigo.
Tympanometry.
Tonal threshold audiometry.
Patient management after surgical treatment.
Consults on the following issues:
Acute and chronic sore throat.
Loss of hearing.
Noise in ears.
Voice changes.
Difficulty in nasal breathing.
Droplet addiction.
Adenoiditis and adenoid hypertrophy.
Chronic and acute sinusitis.
Snore.
Manipulation:
Puncture of the maxillary sinuses.
Rinsing the nasal cavity using the Proetz movement method.
Blowing ears over Politzer.
Auditory tube catheterization.
Washing the lacunae of the tonsils.
Endolaryngeal infusion of drugs.
Pneumatic massage of the tympanic membranes.
EDUCATION
2016 - Russian National Research Medical University named after N.I. Pirogov, specialty "General Medicine".
2018 - NIKIO named after L.I. Sverzhevsky, residency in the specialty "Otorhinolaryngologist".
REFRESHER COURSES
2014 - internship, Semmelweis University Budapest, Hungary.
2018 - All-Russian scientific and practical conference of otorhinolaryngologists, somnologists, audiologists and pediatricians "Otorhinolaryngology 2018", Moscow.
2018 - Benign paroxysmal positional vertigo, Moscow.
2020 - Topical issues of prevention, diagnosis and treatment of coronavirus infection COVID-19.
2020 - V Anniversary All-Russian Forum of Otorhinolaryngologists with International Participation "An Interdisciplinary Approach to the Treatment of Head and Neck Diseases", The First All-Russian Congress of the Association of Phoniatrics and Phonopedics with International Participation, Moscow.
2020 - medical english course.
2021 - course GCP (Good Clinical Practice) X7 Research.
2021 - School of Scientific Publications.
2021 - webinar "RINO School: Dysphonia in pathologies of the nose and nasopharynx".
2021 - Voice Disorders: What Patient and Professional Needs to Know, Icahn School of Medicine at Mount Sinai, New York (remote).
PROFESSIONAL DEVELOPMENT
Lecture "ENT pathology in the practice of a general practitioner", 2021.
Membership in professional organizations:
Russian Society of Rhinologists.
European Society of Rhinologists.
European Society of Laryngology.
KNOWLEDGE OF FOREIGN LANGUAGES
Examination of children: from 1 year.