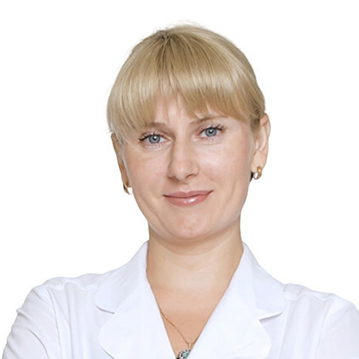 Storozhenko Yulia Olegovna
Dermatologist, cosmetologist, trichologist
Work experience:

23 years

Reception at:

1-й Колобовский пер., дом 4
Make an appointment
Main information
Directions
Reviews
EDUCATION
1999 - Ivanovo State Medical Academy named after A.S. Bubnov, medical business, medical business (doctor), Ivanovo (Ivanovo region).
2000 - First Moscow State Medical University named after I.M. Sechenov, department of dermatovenereology, internship, Moscow.
2003 - Russian Medical Academy of Postgraduate Education, department of dermatovenereology, dermatovenereologist, residency, Moscow.
REFRESHER COURSES
2003 - full course in the specialty "Skin and venereal diseases".
2003 - RMAPE with specializations in "Medical cosmetology and aesthetic therapy", "Physiotherapy in cosmetology", "Hardware cosmetology".
2003 - practical course in aesthetic mesotherapy, qualified as a mesotherapist.
2003 - training under the program "Use of the drug in aesthetic medicine".
2004 - practical course on the use of contour plastics: Restylane, Perlane, RestylaneTouch.
2004 - full course in natural pharmacology, eligibility to work as a paramedical dermatology practitioner authorized by DANNE Montague King Foundation, USA.
2004 - full course of training in permanent make-up, qualification "Specialist in permanent make-up".
2006 - full course of study in trichology and hair treatment methods on the apparatus "Tricoprogram".
PROFESSIONAL SKILLS
Papular skin diseases (psoriasis, parapsoriasis, lichen planus).
Diagnosis and treatment of skin diseases: psoriasis, eczema, lichen planus, atopic dermatitis, acne, allergic dermatosis, seborrheic dermatitis, etc., as well as contagious fungal, viral and bacterial skin infections of nails and hair.
Removal of scars.
Improving skin tone and texture.
Diagnosis and treatment of acne (acne) of all forms.
Lifting, epilation, non-ablative rejuvenation, spider veins removal, microcurrents, oxygen mesotherapy, facial massage.
Acne, rosacea, demodicosis, seborrheic dermatitis.
Toxic-allergic diseases.
Hyperpigmentation and hyperkeratosis, cicatricial defects.
Laser hair removal.
Laser and IPL methods to eliminate pigmentation and vascular pathologies (rosacea, hemangiomas).
Facial treatments, individual selection of cosmetics, cleansing, peeling.
Therapy of aesthetic skin imperfections of various origins (problem skin (acne and post-acne), pigmentation and vascular malformations, scars and skin striae).
Carrying out cosmetic procedures, including all types of aesthetic and medical cosmetology.
Detox programs.
PROFESSIONAL DEVELOPMENT
2004 - present - is an active member of the society of aesthetic medicine specialists.
Children's examination: no.