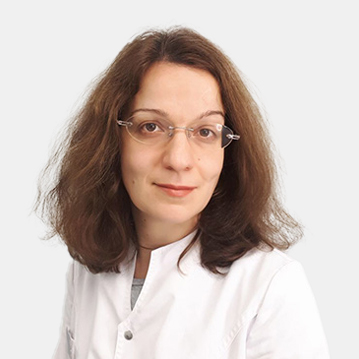 Sorkina Irina Leonidovna
Dermatologist
Work experience:

22 years

Academic degree:

PhD

Medical category:

Высшая по дерматовенерологии

Reception at:

ул. Лобачевского, дом 42, стр.4
Make an appointment
Main information
Directions
Reviews
Education:
She graduated from MMA named after I.M. Sechenov in 1999, passed residency at the Department of Dermatovenereology MMA named after I.M.Sechenov 1999-2001
Since 2001, she worked as a dermatovenerologist at the consultative clinic of the City Clinical Hospital No. 14 named after V.G. Korolenko.
In 2015, she defended her thesis on pharmacotherapy of rosacea.
He is the author of more than 25 publications published in medical journals (Russian Journal of Skin and Sexually Transmitted Diseases, Bulletin of Dermatology and Venereology and others).
Active participant and speaker of conferences and symposia on dermatovenerology (Russian and foreign).
Area of professional interests:

diagnosis and treatment of various dermatoses (rosacea, acne, psoriasis, lichen planus, integumentary forms of connective tissue diseases, dermatoscopic examination of nevi and much more).
Anastasia
26.11.2019
The first time was at Anoyko Olga Yurievna, prescribed ointments and sent to treat the thyroid gland. Did not help. Sorokina Irina Leonidovna cured my face. I immediately understood my problem, a completely different treatment (I did not say that I was with another specialist). One reception with her changed my life. Thank!!!