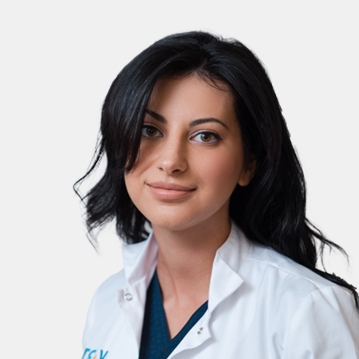 Seropyan Karina Gevorgna
Ophthalmologist, Laser Surgeon
Work experience:

8 years

Reception at:

ул. Лобачевского, дом 42, стр.4
Make an appointment
Main information
Directions
Reviews
Education:
2007 - 2013 - Rostov State Medical University, Rostov-on-Don, Department of Pediatrics.
2013-2014 - internship specializing in Ophthalmology, Department of Eye Diseases and FPK Rostov State Medical University on the basis of the Rostov Regional Clinical Hospital.
Experience:
September 2014 - December 2018, ophthalmologist of the ophthalmology department (20 beds with an ophthalmology room) Federal State Institution "1602 Military Clinical Hospital" of the Ministry of Defense of the Russian Federation, Rostov-on-Don
January 2019 - to the present - ophthalmologist "Clinic K + 31".
Continuing education courses
2016 "Ophthalmology with a course of damage to the organ of vision"
Clinic of Ophthalmology of the Military Medical Academy. S.M. Kirova, St. Petersburg
2017 WETLAB: "Phacoemulsification of cataracts."
MNTK "Eye Microsurgery named after S.N. Fedorov", St. Petersburg
2017 "Ophthalmology with a course of vitreoretinal surgery"
Clinic of Ophthalmology of the Military Medical Academy named after S.M. Kirova, St. Petersburg.
Consultative and diagnostic reception of patients, selection of spectacle and contact correction.
Differential diagnosis of diseases of the organs of vision, substantiation of the clinical diagnosis, treatment of diseases of the anterior and posterior segment of the eyeball, selection of patients for surgery, postoperative management of patients.
Surgical treatment of inflammatory diseases of the eyelids, neoplasms of the eyelids, areas of the lacrimal flesh, conjunctiva, pterygium, xanthelasm.
Management of patients with surgical treatment of cataracts, glaucoma, retinal detachment.
From September 8, 2020, I started having vision problems. I
went to DKTs 1, but they could not establish a diagnosis for me .. September 21, 2020 I went to the clinic K + 31, to the doctor Seropyan Karina Gevorgna. She listened to me attentively, carried out a full eye diagnosis. Based on the results of the diagnosis, I wrote a conclusion, commented in detail and clearly on the results of the diagnosis, told how to carry out the treatment. I was pleased with the results of the admission. The clinic is spacious and clean. The staff are friendly. The equipment is modern (there is no such thing as a DCC). I am very grateful to Dr. Karina Gevorgovna Saropyan and the staff of the K + 31 clinic.
deploy...
Kildyushova Irina / 21.09.2020