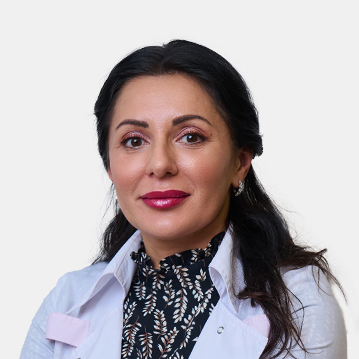 Satirova Elena Fedorovna
Head of the department of anticancer drug treatment, oncologist
Work experience:

18 years

Medical category:

Высшая квалификационная категория

Reception at:

ул. Оршанская, д. 16, стр. 2
Make an appointment
Main information
Directions
Reviews
AT THE RECEPTION
Consultation of all primary patients with any solid tumors, malignant and benign.
Appointment and correction of chemo-, hormone-, immuno- and targeted therapy.
"Second opinion" on the prescribed treatment.
Palliative care.
Symptomatic and detoxification therapy.
Curation after chemotherapy.
Help with various undesirable (side) effects.
Management of patients in remission.
Observation and recommendations for examination against the background of a treated oncological disease.
Family management and follow-up in hereditary cancer syndromes.
EDUCATION
2002 - MMA named after Sechenov, general medicine, DVS1965318, reg. number 268.
2004 - residency in oncology on the basis of the Moscow City State Pedagogical University No. 1 DZ Moscow, reg. number 159, 31.08.2004.
REFRESHER COURSES
Professional retraining in the specialty "Oncology", reg. number 2Ts-37-174207, certificate 0377180902626, 06.2019-05.2024, Federal State Budgetary Educational Institution of Additional Professional Education "RMANPO" dated 25.06.2019.
PROFESSIONAL DEVELOPMENT
Lectures for patients in connection with educational activities for the "Hello" charity fund, UNITY fund, as part of the MedInvestGroup educational program, I conduct webinars, live broadcasts for patients and for doctors.
Participated as a speaker in the mammological forum "Seasons", a report at a session for oncologists on "prevention of breast cancer".
Participation in the 5th congress for cancer patients with a lecture on "drug therapy of breast cancer" - october 2020, 01.2020, in the congress RUSSCO.
Member of the Expert Council "Hippocratic Forum", report 03.2021, on the topic "IVF and cancer".
Member of the Oncology Society, RUSSCO.
Participation in the writing of the research protocol on oncological risk assessment in IVF on the initiative of the "Patriarchal Commission for Family, Health, Motherhood and Childhood".
The author's brochure for patients "Oncology for women's health" is being prepared for publication.
The author of the instagram channel Dr. Lena (doc.lena.satirova).
In the spring of 2020, she worked as a therapist in a covid hospital on the basis of the clinic of JSC "K31 City".
Moderator and lecturer in the ONCOPHELD group.
News presenter on ONKOTV (YouTube channel for patients), presenter of the patient column "Dr. Lena recommends".
Author of oncolicbees for patients in social networks.
A course of lectures on breast and pancreatic cancer for ANO DPO Academy Med. Education in Moscow.
Lecturer, listener, moderator at congresses and forums under the auspices of RUSSCO, AOR, ESMO.
KNOWLEDGE OF FOREIGN LANGUAGES
English.
Italian.
Bulgarian.
Polish.
Examination of children: no.