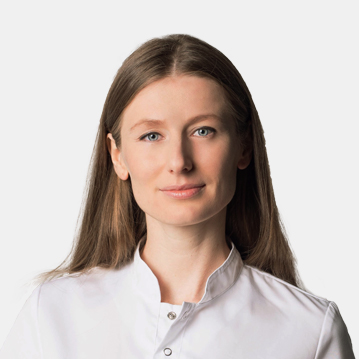 Korneeva Evgeniya Sergeevna
Dentist-surgeon, periodontist
Work experience:

12 years

Reception at:

ул. Лобачевского, дом 42, стр. 4
Make an appointment
Main information
Directions
Reviews
Education:
She graduated in 2008 from the Moscow Medical Academy. I.M.Sechenova. AT
2009 - Clinical internship of the Department of Therapeutic Dentistry MMA named after THEM. Sechenov.
From 2009 to 2011 - clinical residency at the Department of Faculty of Surgical Dentistry at the First Moscow State Medical University. THEM. Sechenov, specialty "Surgical Dentistry."
In 2013, she improved her skills at MGMSU named after A. I. Evdokimova under the program "Dental implantation" at the Department of Implantology and Reconstructive Surgery of the oral cavity.
From 2011 to 2014, postgraduate studies at the FSBI TsNIIS and ChLH of the Ministry of Health of the Russian Federation.
In 2015, he completed a professional development course at the RMAPO Ministry of Health of the Russian Federation, specializing in General Dentistry.
In 2015 - advanced training at the Department of Surgical Dentistry of the Russian Academy of Medical and Public Health under the program "Surgical Dentistry".
Further education courses:
Since 2008 - regular professional development at international symposia and thematic courses. In 2010, the International Conference "Alternative Approaches in Integrated Dental Rehabilitation with the Use of Implants"; lecture and practical course "Anesthesiology and emergency care in outpatient dentistry." In 2012, she took part in the International Conference of the European Federation of Periodontics "Europerio 7" in Vienna. In 2013 - 2014 She completed a course on dental implantology with the Straumann system, attended the scientific seminar "Management of hard and soft tissues", Straumann Medtech Implant. She participated in lectures at the 4th scientific-practical conference of young scientists "Actual problems of dentistry and maxillofacial surgery" at the Central Research Institute for Surgery and the ChLH, and at the Interregional Scientific-Practical Conference of Dentists "Modern problems of dentistry and ways to solve them". Course "Innovative treatment concepts to achieve the predictable closure of single or multiple recessions: opportunities and boundaries." Prof. Dr. Anton Sculean. Participated in the practical course "New perspectives of vertical and horizontal augmentation with directed bone regeneration" Phd.Dr. Istvan Urban. Master class by Giovanni Zuckelli "Soft tissue repair in an aesthetically significant area of the oral cavity." Since 2014, an annual visit to the International Quintessence Symposium on Periodontics and Implantology. Course "A paradigm shift in implantology: concepts of working with soft tissues" Nobel Biokear. 2015 - Anniversary Congress of Nobel Biocare. 2016 - course "Immediate implantation with functional load: a systematic approach and a protocol of success." A.Davidyan. Practical course A. Smolyakova "Periosurgery as a way to solve post-implantation problems." 2017 - "Mucogingival surgery around implants." February A.Yu. 2018 - Course "All-on-4 treatment concept" S. Davidov, Nobel Biocare. 2019 - course "Creating a harmonious contour of soft tissues during implantation in the frontal section." Oscar Gonzalez Martin.
Experience:
Since 2010, the surgeon is a dentist at the medical center of the Ministry of Internal Affairs of the Russian Federation for the Ministry of Defense.
From 2016 to 2018 - surgeon-periodontist, dental clinic "Volvach clinic".
Professional skills:
It fully performs surgical dental surgery, periodontal surgery, specializes in soft tissue repair, performs dental implant surgery and bone grafting.
Tatiana
07.09.2021
I would like to leave my gratitude to the dentist-surgeon Korneeva Evgenia Sergeevna, I signed up for her for the first time, I have not met a dentist with a "lighter" hand than hers, solved my problem, gave recommendations. I really want there to be more doctors like her: qualified, not indifferent, to whom it is not scary to turn to. Evgenia Sergeevna, thank you very much, I hope you will see my gratitude, you are a wonderful person and specialist, I am infinitely grateful to you! Sincerely, Tsoi Tatiana