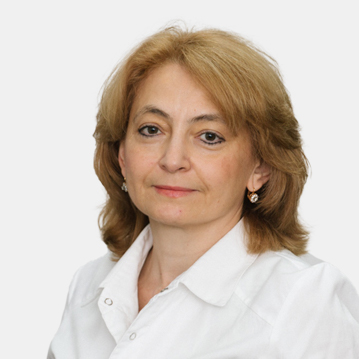 Ozdoeva Zara Salmanovna
Obstetrician-gynecologist, doctor of ultrasound diagnostics
Work experience:

32 years

Academic degree:

PhD

Reception at:

ул. Лобачевского, дом 42, стр.4
Make an appointment
Main information
Directions
Reviews
Education:
1981-1987 North Ossetian State Medical Institute, Faculty of Medicine, diploma with honors
1987-1988 internship in obstetrics and gynecology
1988-1990 Clinical Residency in Obstetrics and Gynecology at the 2nd MOLGMI named after N.I. Pirogov
1991 Defense of the PhD thesis on the topic: "Dynamic laparoscopy in gynecology"
Further education courses:
Certification cycles for obstetrics and gynecology every 5 years (2004,2009,2014) Certification cycles for ultrasound diagnosis every 5 years (2007,2012,2017)
Further training under the program "Colposcopy and pathology of the cervix uteri" 1997, 2010, "Application of radio wave surgery methods in the diagnosis and treatment of gynecological diseases" 2010, "Urogenital diseases and skin pathology of the vulva" 2015. Annual participation in interdisciplinary forums and master classes with international participation for colposcopy, diseases of the cervix and vulvovaginal diseases.
Continuing education on the methods of examination and treatment of endocrine gynecological diseases in the NCAC & 2006. Participation in international congresses on reproductive medicine 2006, 2016, 2019
Endoscopy Certification Course 2012 Annual participation in international congresses with an endoscopy course on new technologies in the diagnosis and treatment of gynecological diseases.
Professional skills and possession of unique techniques:
Diagnosis and treatment of gynecological pathology
Pregnancy planning and management, including in patients with miscarriage
Ultrasound diagnostics in gynecology and obstetrics (I-II trimesters)
Small surgical interventions in gynecology.
Maria D.
09.02.2021
Zara Salmanovna is a very neat, attentive and qualified specialist. I noticed a problem with me, although I asked about another question. I explained everything clearly and intelligibly. The performed diagnostics confirmed the problem. Zara Salmanovna performed the treatment very carefully, minimally traumatic and successfully.