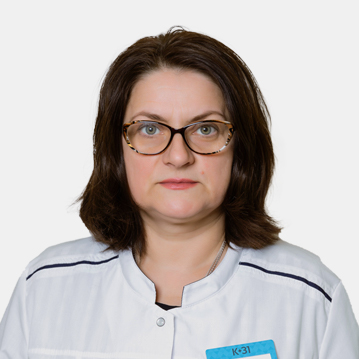 Ogneva Marina Alekseevna
Allergist-immunologist
Work experience:

14 years

Reception at:

1-й Колобовский пер. дом 4
Make an appointment
Main information
Directions
Reviews
Education:
2008 - Russian National Research Medical University named after N.I. Pirogov, General Medicine;
2008-2010 Clinical residency of FSEI IPC FMBA of Russia with a degree in Allergology and Immunology;
2009 Federal State Educational Institution Advanced Training Institute of FMBA of Russia, advanced training course "Infectious Diseases";
Experience:
NUZ Scientific Clinical Center of JSC Russian Railways, allergologist-immunologist, 3.5 years
GBUZ GKB No. 24 DZ of Moscow, allergologist-immunologist, 3.5 years
FSBI "SSC Institute of Immunology" FMBA of Russia, Department of Immunopathology, Junior Researcher, 1 year
Professional skills and possession of unique techniques:
ambulatory reception, treatment, management and observation of patients with various allergic and immunodependent diseases.