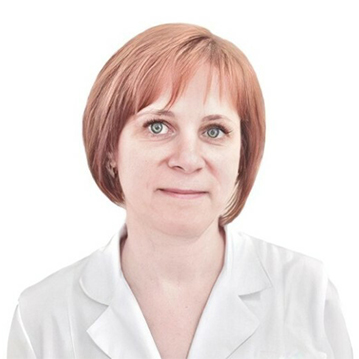 Makushina Elena Dmitrievna
Pediatrician
Work experience:

29 years

Reception at:

ул. Оршанская, д. 16, стр. 1
Make an appointment
Main information
Directions
Reviews
AT THE RECEPTION
Medical and diagnostic work with children.
Vaccination of young children.
Otoscopy and rhinoscopy.
EDUCATION
1993 - Vladivostok State Medical Institute (VGMI).
1994 - GBUZ CRH, p. Chernigovka, Primorsky territory.
REFRESHER COURSES
Completion of refresher courses in pediatrics every 5 years.
2012 - certification cycle of additional professional education in dietetics on the basis of VSMU of the Ministry of Health and Social Development of Russia.
2019 - certification cycle of advanced training in pediatrics on the basis of the Russian National Research Medical University named after N.I. Pirogov of the Ministry of Health of Russia
2021 - advanced training "Topical issues of vaccine prevention", MEDSI group of companies, Medical Academy.
PROFESSIONAL SKILLS
Conducting consultative (therapeutic, diagnostic and prophylactic) reception of children and adolescents from birth to 18 years old.
Diagnostics and treatment of infectious and somatic diseases using clinical guidelines of the Ministry of Health of the Russian Federation and evidence-based medicine.
Vaccine prophylaxis according to the National calendar, drawing up an individual schedule in violation of the terms of vaccination, extended additional vaccination with Russian and imported vaccines.
Registration of medical records.
PROFESSIONAL DEVELOPMENT
Participates in conferences and congresses on pediatrics, annually attends the congress of pediatricians with international participation "Actual problems of pediatrics", as well as "Innovative technologies in pediatrics and pediatric surgery".
Member of the union of pediatricians of Russia.
Participates in the system of continuing medical education (CME).
Examination of children: from 0 to 18 years old.