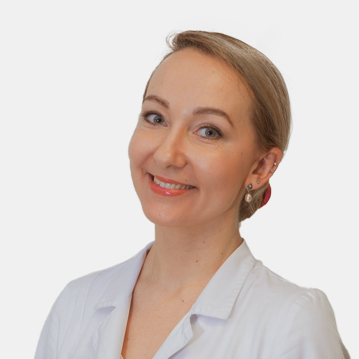 Kuryleva Irina Mikhailovna
Ophthalmologist, Laser Surgeon
Work experience:

10 years

Reception at:

ул. Лобачевского, дом 42, стр.4
Make an appointment
Main information
Directions
Reviews
Education:
2010 - Moscow State University named after M.V. Lomonosov, Faculty of Fundamental Medicine, specialty - medical business, diploma with honors;
2010-2012 - Residency at the Helmholtz Moscow Institute of Eye Diseases (A.I. Evdokimov Moscow State Medical and Dental University, Faculty of Postgraduate Education, specialty ophthalmology).
2013 - "Optical coherence tomography in ophthalmology" (Helmholtz Scientific Research Institute of GB).
2013 - "Fluorescence angiography" (Helmholtz Scientific Research Institute of GB)
2014 - "Laser surgery and the introduction of fluorescence angiography" (MNTK them. SN Fedorov)
2015 - "Contact vision correction." The vision vision institute
2018 - "Laser technology in the treatment of pathology of the anterior segment of the eye" (Helmholtz Scientific Research Institute of GB)
Area of professional interests:
Comprehensive examination of patients with cataracts, vitreoretinal pathology, with refractive errors (myopia, hyperopia, astigmatism), diagnosis and treatment of infectious and allergic eye diseases, early diagnosis and conservative treatment of glaucoma, age-related macular degeneration. Laser treatment of diabetic retinopathy and other types of ocular fundus vascular pathology, peripheral vitreochorioretinal dystrophy and retinal ruptures, glaucoma, secondary cataracts. Outpatient procedures (lacrimal lavage, removal of foreign bodies from the conjunctiva, cornea, removal of papillomas of the eyelids), OCT, ultrasound. Fundus fluorescence angiography.
Scientific activity:
Co-author of 14 publications (of which 1 - in the foreign press), 1 patent. Regular participation in Russian and international ophthalmological conferences, conferences of young scientists.
ARVO (The Association for Research in Vision and Ophthalmology) 2012 International Travel Grant recipient.
Irina Fedorovna
19.07.2018
Good day! I would like to express my deep gratitude and gratitude to Irina Mikhailovna Kuryleva. She is so young and at the same time such a great professional in her field! On July 7, Irina Mikhailovna carried out a long and complicated diagnosis for me at the highest professional level, and did not spare the time to explain the problem to me in great detail and kindly, until I understood everything correctly. Thank you very much! Irina Mikhailovna, I wish you great professional success and remain as beautiful and charming.
Ekaterina Georgievskaya
01.07.2014
Any of us, going to see a doctor, experiences internal stress. And the success of the treatment, except. of course, the correct diagnosis, to a large extent depends on how much trust develops between the doctor and the patient. It seems to me that an excellent doctor, a high-class specialist, an ophthalmologist Irina Mikhailovna Kuryleva, is an example of professionalism and high human qualities in relation to patients. Each meeting with Irina Mikhailovna gives me confidence that everything will be fine. Thank!
Olga Tatarinova
28.06.2014
Irina Mikhailovna is an excellent specialist! I would like to express my gratitude for the attentive attitude, kindness and treatment prescribed for me, which helped me in a short period of time. Good luck in your difficult and important work for us, your patients!